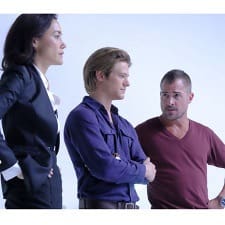 Since we're all getting back into the swing of things after the long weekend, I thought we'd have a fun open thread today: what new TV shows are you looking forward to this fall? What second, third, and beyond seasons are you eagerly awaiting? What shows are you so glad you've caught up with via streaming services like Netflix, Hulu, or Prime — and have you seen any great documentaries or movies lately? (Here's another great question: for those of you who love to binge watch things or tie TV-watching to workout time — what are your favorite shows?) Do you put limits on your TV watching (e.g., no more than 7 hours per week, only on the treadmill)? (Cord cutters / those without a TV, I'd love to hear from you too — how's it going?) 
For my $.02: With two small kids and limited grown-up/unscheduled time outside the house, we almost never go to movies in theaters — the last time I can remember going was when I saw Gone Girl by myself the week it opened… oh and of course we saw The Force Awakens the week it opened. So almost all of my picks will be TV-based! For new TV, I just set my TiVo to record (links go to the official trailers on YouTube):
MacGyver – I'm kind of really psyched about this reboot; we watched the old series all the time while growing up. (Pictured.) It premieres Sept. 23.
Bull – I read the description (it's loosely based on the backstory of Dr. Phil and his jury consultant years) and thought, OK, fine, it sounds interesting — but the trailer makes it look like a really fun mix of a procedural/character study, so I'm now properly excited. It premieres Sept. 20.
The Good Place – Kristen Bell plays a woman who dies and wrongly goes to Heaven instead of Hell; the comedy is about her trying to change her less-than-stellar ways.  It looks OK to me, but I like Kristen Bell, so I'm hopeful. It premieres Sept. 22.
One Mississippi – I mostly set the TiVo based on the recommendation of Emily Nussbaum, The New Yorker's TV critic (but a quick Google shows it's getting a TON of good traction from the critics, along with Fleabag and Atlanta — here's the NPR article on all three).  One Mississsipi is a dark comedy inspired by comedian Tig Notaro's life: "Tig returns to her hometown in Mississippi, where she contends with the death of her mother and her own mortality as she embarks on a painful yet hilarious journey that unearths uncomfortable truths about her family and her self." It premieres Sept. 9.
Designated Survivor – Fiiiiine, I thought, I'll record it since this show is getting so much buzz, and hey, I had a crush on Kiefer Sutherland many many moons ago, although I do not remember why. After watching the trailer I'm intrigued, though — Sutherland plays "a lower-level cabinet member who unexpectedly becomes president after a devastating attack on Washington." It premieres Sept. 21.
Braindead – I'm not quite sure where to put this one — it's eleven episodes into its mid-summer premiere. I started watching it primarily because I'd read about how the costume designer from The Good Wife was doing this as his next show, and while the clothes are fine (I'd say unremarkable, honestly), the show itself is a delight — quirky, funny, smart.  The premise: "A government employee discovers that the cause of the tensions between the two political parties is a race of extraterrestrial insects eating the brains of the politicians." Big thumbs up.
I'm excited for the return of:
You're the Worst – It already started, but I haven't seen the new season yet. This dark comedy on FX follows the complicated relationship of two "horrible" people — it's funny, and dark, (and super NSFW), and I agree completely with the AV Club that it's one of the bravest depictions on TV of depression.
Crazy Ex-Girlfriend – I've written before of my love of the show, even though I'm usually not into musical shows. (Despite the fact that I've watched and enjoyed the first several seasons of Nashville and the first season of Empire. Hmmn.) It's complex, it's funny and dark, and I feel like I know the lead from like ten different walks of life. Season 2 premieres Oct. 21.
Younger – Maybe it's because I'm roughly the same age as the character in the show (a few years younger!), and also got my start in the NYC publishing world (kinda sorta — I worked for the book editor at a major magazine), but I love this show.  Season 3 premieres Sept. 28.
(We're a ways away from the return of Game of Thrones, Veep, Silicon Valley, Orange is the New Black, House of Cards, The Americans, and The Expanse, but I'm eagerly awaiting all of their returns, as well. We haven't had Showtime for a while but I'm looking forward to catching up on The Knick and The Affair if/when they're available for streaming elsewhere.)
In terms of movies — the last few I saw that I really liked were Joy, The Martian, and the Tony Robbins Netflix documentary, I Am Not Your Guru (really interesting documentary, but is it just me or did he "help" every woman in the audience by bringing every complaint/challenge back to daddy/boyfriend issues?). I just saw The Intern and liked it a lot more than I thought I would. I'm excited about but haven't seen the new Star Trek movie or Bad Moms, and I'm looking forward to Girl on the Train and Rogue One. Recent(ish) movies I plan to watch when I get a moment: Whiskey Tango Foxtrot, and Weiner.  Even though they got horrible reviews, I'd still like to see The Huntsman and The Boss. (Did you know that Rotten Tomatoes now lists "top streaming movies" as a separate category?)
Obviously I'm not into scary/monster shows (I've heard great things about Stranger Things, but I don't think it's for me — even some Dr. Who episodes kept me up at night) — and my tastes run more for comedy/procedural/over the top drama — but that's me.  Over to you, ladies — what TV are you excited about this fall? Any new movies you're looking forward to coming out?