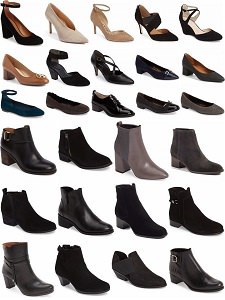 Gearing up for the 2019 Nordstrom Anniversary Sale, or wondering when does the Nordstrom Anniversary Sale start in 2019? Early access starts July 11 2019 — sign up for our newsletter to get all our workwear advice and roundups of what to buy for work in the sale!
The below content is about the 2017 Nordstrom Anniversary Sale.
I keep going back to the Nordstrom Anniversary Sale and finding more and more stuff (I'm personally on order #4 I think now, sigh) — but the shoes are really great for work. Tons of things that will be cute with tights, pantyhose, or bare legs — with skirts, dresses, or pants. We've rounded up the best shoes for work from the 2017 Nordstrom Anniversary Sale — which are your favorites, ladies?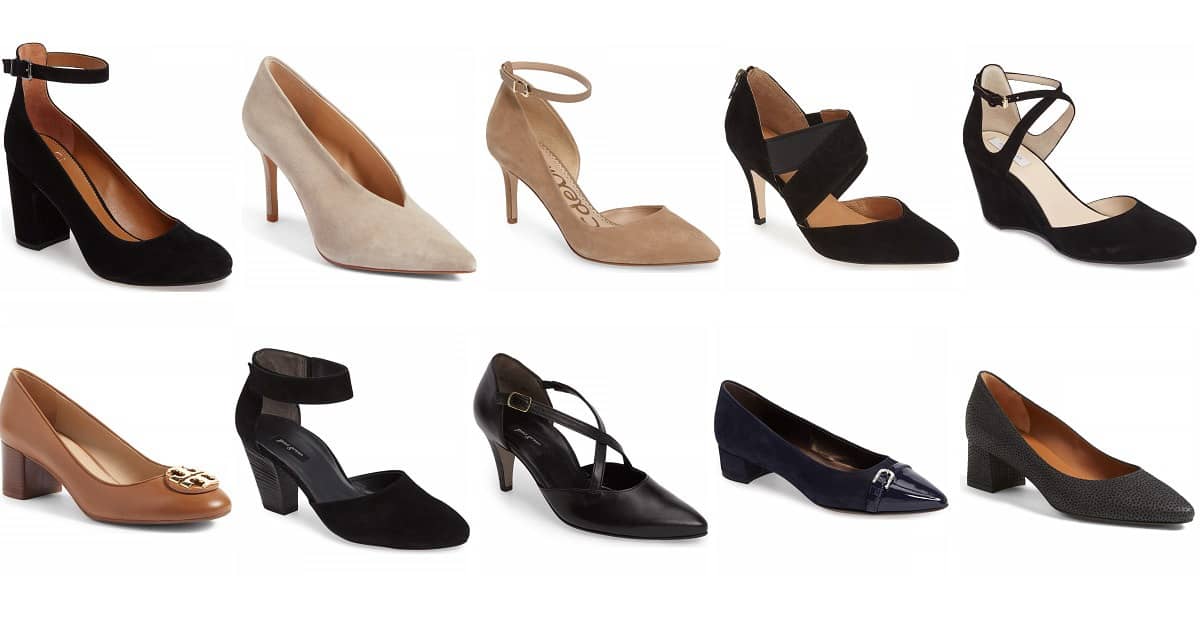 Updated 8/3! Anything that only has a few sizes left has been marked with an asterisk — if you like it, you may want to move fast!
Psst: you can see our earlier workwear picks here! Note that there's only a few more days of Early Access — the sale opens to the public on July 21.
This post contains affiliate links and Corporette® may earn commissions for purchases made through links in this post. For more details see here. Thank you so much for your support!
Heels for Work In the 2017 Nordstrom Anniversary Sale
There are so many awesome heels and pumps in the NAS this year — I'm drooling over a ton of them.
Pictured below (top row, currently $79-$119, will be $118-$180):
ankle strap (4 colors) / envelope pump (3 colors) / beige suede ankle strap (6 colors) / criscross pump / crisscross wedge (4 colors)

Pictured above (bottom row, currently $164-$259, will be $258-$395 after sale ends):
tan pump*/ ankle strap (3 colors) — have heard SO many great things about this brand! / crisscross pump / navy belted block heel / black dot pump
Fantastic Flats in the 2017 Nordstrom Anniversary Sale
Pictured below, the flats are $49-$219, but will be $70-$330 after the sale ends:

teal flat with strap (4 colors) / scalloped ballet flat (6 colors, see also) / patent oxford (2 colors) / cap toe ballet (2 colors)/ grommet detail flat (4 colors)
Office-Appropriate Booties
Booties have come a long way, and I'm seeing new "stepped topline" details like in several ones here. Know your office (and personal style best), but in my opinion the best booties for the office have a dark heel that doesn't look very wood grainy, which automatically takes a lot of the lighter colored options.
The booties pictured below are currently $99-$349, but they'll be $160 – $525 after the sale ends.

bootie with buckle (3 colors) / black bootie (waterproof, 3 colors!) / gray block heel bootie (2 colors) / gray bootie (2 colors)
Waterproof Shoes
So many cute waterproof shoes — these can be great for a commute, particularly if you live in a place with puddles, slush and more! (Including the black dotted pumps at top and the second black bootie pictured above!) There are also some great basic Hunters and other snow boots in the sale if you want something more rugged/functional for your commute.

The shoes pictured above are $99-$299, but will be $149-$450 after the sale ends)…
low black booties / Cole Haan bootie / black suede / black suede*
Cute Comfort Booties in the 2017 Nordstrom Anniversary Sale
If you're someone who really wants to (or needs to) pay for brands that market themselves as comfortable, there are actually a ton of cute comfort booties in the sale this year. The boots pictured below are all $139-$159 right now, but will be $219-$245 after the sale ends:

tall bootie / quilted bootie / bootie with ruched detail / block heel bootie
Ladies, what have you gotten thus far at the 2017 Nordstrom Anniversary Sale? As packages start to arrive, share your reviews with us!