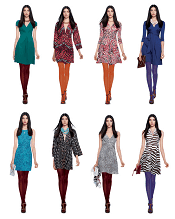 Can you justify having multiples of the same kind of dress? Does the answer change if it's from a "designer collaboration" (popularized by Target but seen at a lot of different budget-friendly stores)? Reader J wonders, particularly with respect to the recent Banana Republic/Issa collaboration:
I kind of went wild and bought a bunch of the "royal engagement" style Issa wrap dresses (royal blue, turquoise, deep purple, aubergine). As you know, these are classic looking dresses made of 100% silk … plus I love them. Can I justify having multiples of these dresses?
For those who don't know, Issa is a fairly high end brand with dresses that normally retail for $400-$850 (sold at stores like ShopBop and Saks; The Outnet actually has a bunch on sale right now for $200+); they recently did a "collaboration" with Banana Republic where some of Issa's designs, manufactured and sold by BR, retail for $50-$140. I have a few thoughts on this, but I'm curious to hear what the readers say…
1) If you buy something you like, that fits you well, buy multiples of it (or at least set up a price alert to stalk it when it goes on sale). I've done this with t-shirts, sweaters, blazers, pants, lingerie, shoes, even purses.  I've occasionally even bought the exact same color and size again because I liked it so much and wanted a spare.
2) That said, you want to be a bit careful with the ever popular "designer collaboration" — — not only are the pieces often very recognizable as budget-friendly choices (particularly prints), the pieces aren't really renowned for their quality either.  I tried on a few of the BR/Issa dresses when they came out — they do have recognizable details, but I think in a solid color Reader J is probably in the clear.
3) But now with THAT said, I'd suggest that Reader J (if it isn't already too late) focus on ONE of the dresses she bought recently, and keep the others, tags on, waiting in her closet, at least until the first dress has gone through the laundry cycle a few times. This will allow Reader J to gauge the quality compared to the price she paid, decide if she wants to return them (or return them to stalk a sale and pay a lower price).  Once she's decided what she's keeping, I'd try to put some space between dress wearings — certainly never all in the same week! — and, were it me, I'd even try to keep at least one (if not two) of the four dresses she bought unworn for some period of time — a few months, half a year, whenever.  Then, they'll be a nice way to liven up her wardrobe when the other dresses start to feel overworn.  Of course there are down sides to this also — she could gain or lose weight, or decide she hates the style, or her job situation could change in a way where she has less of a chance to wear the dresses… but I'd probably take those risks.
Readers, would you buy multiple dresses from a designer collaboration?  Have you bought multiple recognizable dresses in general (e.g., DvF wrap dresses)?  What items do you most like to buy in multiples?