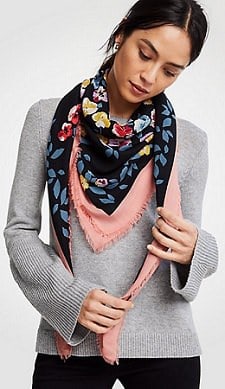 What are your best tips on how to wear scarves to work, readers? What are the best styles — the splurgeworthy brands — and the best fabrics and shapes for scarves? How do you like to style your scarves in 2018 for a modern look? Reader D wonders:
Would you please do a piece on scarves? What are the best brands, materials, styles for the executive suite? Silk, cashmere, blend, wool?
Great question, D! We haven't had a discussion on how to wear silk scarves in a few years, and I can't wait to hear what readers say. While readers here have wondered if scarves are professional enough for work, Fortune recently(ish) called scarves the new power accessory for executives. Personally, I tend to associate scarves with style over trend because they really depend on the woman and how she wears them.
For my $.02, these are my best tips on how to wear scarves to work: