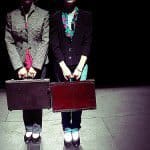 We're prepping for our next "Hunt" article: this time, we're tackling briefcases/attaches/totes for businesswomen. Sure, the USB drive is all you need most days, but what do you carry when you're going to a big meeting or to court and need to carry some serious documents (and look serious doing it)?
Suggestions welcome — please comment below when you get a chance. If possible, please mention where it can be bought. (For example: the classic nylon Kate Spade bags — are those sold anywhere, still? We've been trolling the various sites and can't find them anywhere…)
Photo courtesy of lanuiop's Flickr set.