Our daily TPS reports suggest one piece of work-appropriate attire in a range of prices. We begin the week in splurge mode, with our most expensive suggestions, and wind our way to Friday, where a less expensive item of clothing might be just what you need to make it to the weekend.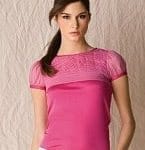 This cotton/silk tee by Alice + Olivia is fabulous — with the pintucking and fabric it seems much more lux than the $148 it costs. We think the bright pink would be lovely under a black suit, perhaps worn with a long scarf in complimentary colors — perhaps a light blue scarf with red effects or a white scarf with green in it. Available at Bloomingdale's.
Update: It's come to our attention that it's on sale at Bloomie's, but is now only available in size L. If you'd prefer more options, the top is available (in white only) at Fashion Chateau. They also have a 15% off sale going through 5/27.