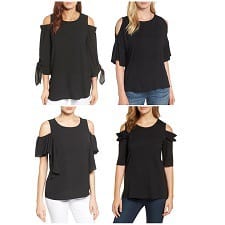 Can you wear cold shoulder tops to the office? Reader L wrote in wondering whether cold shoulder tops are work-appropriate… Here's her question:
Cold shoulder tops seem to be everywhere. Are they ever appropriate in the work setting? I've seen some that would look acceptable as a sleeveless tank or cardigan (for more casual environments), but there's something about the "cold shoulder" that feels more risque.
Interesting question, Reader L! We got into this a bit in our chat about the trends we won't wear to work, but as always trends get muted and change the longer they go on, so it seems like it's deserving of a fuller discussion. I will note that a number of stores (sigh) include such styles in the "wear it to work" section. I'm curious to hear what readers say.