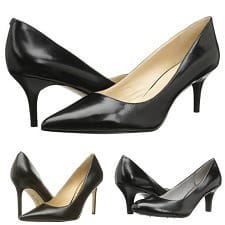 Sure, we all know what wardrobe essentials for work professional women are supposed to have in their closets, but if you're buying one for the first time or replacing one you've worn into the ground, it can be a pain to find exactly the right incarnation in stores. In "The Hunt," we search the stores for a basic item that every woman should have.
In honor of on campus interviews coming up, I thought I'd focus today's Hunt on job interview heels. What DO you look for in a job interview heel, readers? The most important thing to me, first, is that a job interview heel is comfortable for you — this may mean arch support, it may mean a puffy, sneaker-like insole, it may mean anywhere from a 2″ heel to a 4″ heel. (You can also wear flats for an interview, of course!) A comfortable shoe means a confident stride — I've seen some women interviewing look wobbly and unsteady on their feet. Don't choose height  for "style reasons" if you feel like a baby giraffe just learning to walk! The second thing that's most important for an interview shoe is that the shoe should be pristine — no scuffs, marks, or anything. If you're interviewing in a heel you've had for a while, take it to the cobbler for new tips and polishing, at the very least. (Along the lines of a "confident stride," note that many cobblers can add rubber tips to heels and even replace part of the sole with a rubber portion to make the shoe less slippery.) Readers, how about you — have you gotten any great job interview heels lately? Have you seen any faux pas or other fashion gaffes (or made any yourself) while choosing heels for job interviews?
Pictured at top, clockwise from top: one / two / three.