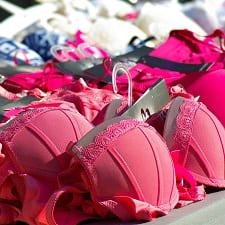 Sizing for women's clothing can be incredibly frustrating in general (meaningless numbers! vanity sizing! different sizing among brands!), but figuring out how to buy a bra that fits can be even worse. It's pretty easy to tell if, say, a shirt fits you, but so many of us are wearing the wrong size of bra every day (which we've been told ad nauseum). Maybe you've lost or gained weight without buying a new one, maybe you feel like your bra fits well enough because you don't realize you've never worn the appropriate size, or maybe you've simply given up on buying a size that feels just right.
We haven't specifically talked about how to buy a bra before, although we recently had an open thread about readers' favorite lingerie for office looks, we've discussed bra care (including washing, rotating, etc.), and a couple of years ago we specifically gave workwear style tips for busty women.
This post contains affiliate links and Corporette® may earn commissions for purchases made through links in this post. For more details see here. Thank you so much for your support!
Here are some tips on how to buy a bra that fits well, feels comfortable, and makes you look even better in your clothes: