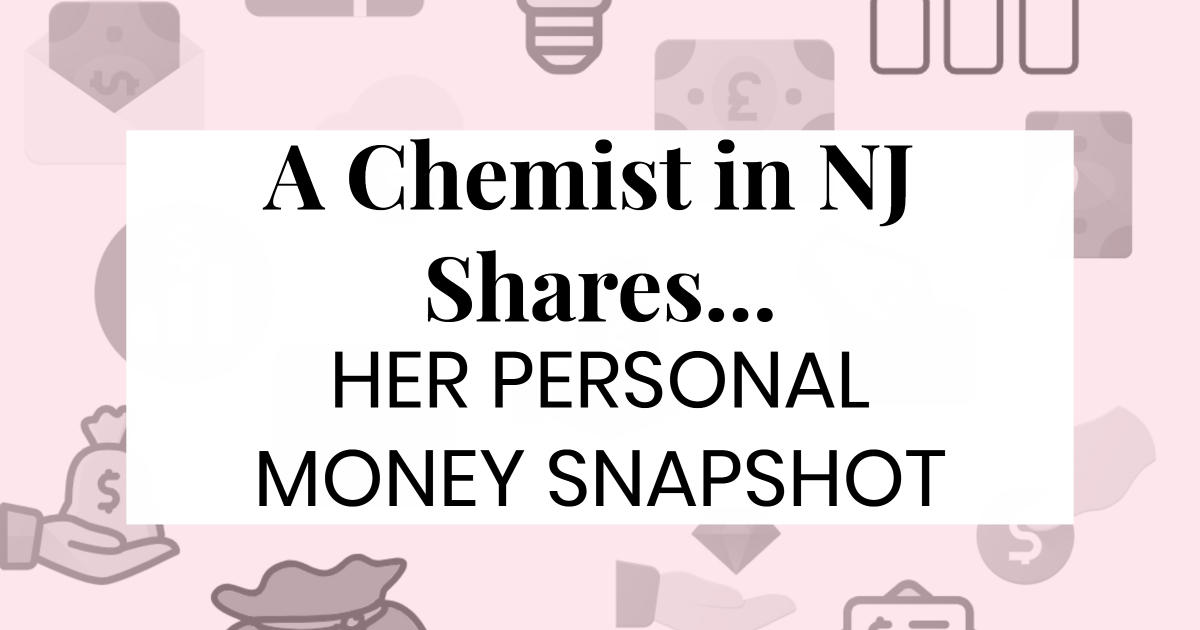 Presenting our second "money snapshot," this time with a 29-year-old chemist in New Jersey! She notes: "We paid off our cars and my student loan debt, and now we are saving for a house."
By way of background: we got a few requests from readers to launch our own "money diary" series, so we asked willing readers to fill out a form with lots of details about debt, spending, saving and more! If you'd like to fill out the form and be considered for a future personal money snapshot, please click here if you'd like to see the form and/or submit responses! You can also see a PDF of the questions if you want to review them ahead of time. See others in the Personal Money Snapshot series here.
Please remember that this is is a real person who has feelings and isn't gaining anything from this, unlike your usual friendly (soul-deadened, thick-skinned, cold-hearted, money-grubbing) blogger — so please be kind with any comments. Thank you! — Kat
Name: J
Location: Collingswood, NJ
Age: 29
Occupation: Chemist
Income: $85,000
Household income: $176,000
Partner's age: 30
Household net worth: not sure
Net worth when started working: Nothing except $55,000 in student loan debt (age 22)
Current debt: $0
Living situation: Currently renting; rent is $1,525/month
Debt
How much money are you spending each month to pay down debt?
$3,000 credit card bill — covers almost all expenses except rent
How did you pay for school?
Grants and loans
Have you paid off any major debt?
Honestly, I wouldn't have been able to pay off student loans so quickly ($54k in 7 years) if I didn't have a partner covering all our daily expenses.
What is your living situation?
We are renting — we rented for five years before we aggressively started saving for a house. In 18 months we had enough for a mortgage that we felt comfortable with, but we're still hesitant to buy because property taxes in our area are so high and we aren't 100% sure we want to (can?) commit to this area.
Savings, Investments & Retirement
How much do you save for retirement?
15% or more of my salary in 401k, and I have a rollover IRA that I haven't touched. Both are more risk-balanced since I'm under 30.
How much money do you allocate to other tax-savvy investments/accounts like HSAs, 529s, FSAs, and others?
From 2011–2018, I put $10 a month into my HSA to focus on student loans. In 2019, I'll contribute almost the maximum.
How much do you save outside of retirement accounts?
My partner pays for day-to-day expenses, and most of my salary (minus Target trips and a few monthly expenses like Audible) goes to a savings account.
Do you have/use a financial adviser or planner? Do you have a favorite index fund where you stick everything? Are you doing a bond ladder or other asset allocation strategy (like value funds or target retirement funds)?
No, but I think we should use a financial adviser soon. After Christmas [2018], I want to buy index fund.
Do you have an end goal for saving (e.g., early retirement or job change) or are you just saving for a rainy day?
House, Travel, and Apocalyptic life events. Early retirement would be great, but I haven't thought about how to do that.
What's the #1 thing you're doing to save money, limit spending, or live frugally?
Automatic transfers help. Also, this sounds terrible, but having almost all our expenses on one credit card keeps me accountable. I'm far less likely to impulse spend if I know my partner is checking the credit card every week. My personal credit cards don't have travel rewards, so I only want to use the joint CC and use the points to travel abroad. So my impulse spending is limited, and when I do spend, it's at least going to be rewarded with crepes in Paris or something.
When did you start saving seriously? How has your savings strategy changed over the years?
I started saving seriously at the age of 26, and even more aggressively at 28.
How much do you have in cash that's available today?
$2,000
How much do you have in cash that's available in a week, such as with an online savings account?
$70,000
Spending
How much do you spend on the following categories on a monthly basis?
Groceries: $300
Restaurants, bars, takeout, and delivery: $150
Clothing and accessories: $150
Transportation: $160
Rent/living expenses: $1,525 (rent)
What's your spending range for these things? What's your average?
Vacations – Range: $0–$5,000
Vacation – Average: $2,500
Individual items of clothing – Range: $5–$75
Individual items of clothing – Average: $40
Apartment or house – Range: $900–$1,600/month
Apartment or house – Current main residence: $1,525/month
Car or other vehicle – Range: $0–$400/month
Car or other vehicle – Last purchase / current main vehicle: $400/month
Fill in the blank on this question: I could save _____ if I stopped ______, but I don't because _______.
I could save $150/month if I moved closer to work, but I don't because the state I work in is undesirable in so many ways.
When was your wedding and how much did it cost?
Everything including honeymoon cost about $30,000. My parents covered about half. We spent a lot of money on the venue, food, and photographer. We bought our own alcohol (tax-free Delaware), hired the least experienced but still awesome DJ, and I got all the table flowers from Produce Junction and Trader Joe's.
If you own, how much did your car cost?
$22,000

Money Strategy
Do you have a general money strategy?
Save as much as possible, and between my partner and I, try to live on one income and save the rest.
What advice would you give your younger self about personal finance?
Get a roommate after college. Don't buy a new car.
Photo credit: icons via Stencil.
Psst: We've talked about automatizing saving and automatic investing, as well as how to decide whether to pay down debt or save…