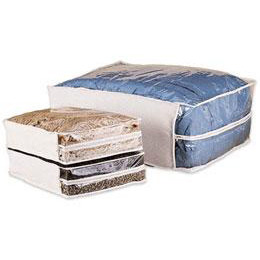 Reader F writes in with a timely question about seasonal clothes storage:
I am moving to NYC next year and will be leaving my lovely apartment where I have three closets all to myself, including 1 walk-in closet, and moving in with my boyfriend where the combined closet space is not even a third of what I have to myself currently. Do you have suggestions for places to keep winter clothes during the summer and vice versa? I've heard there are services for this, but wondering if you or your readers might have some good suggestions for places where my clothes won't get eaten by moths or fall victim to the next bedbug disaster.
I say "timely" if only because I finally put away all of my spring pastels, and swapped them out for darker emerald and earthy tones just a few days ago.
My own custom for seasonal clothing storage is to:
a) use large storage bags (such as the Natural Cotton Storage Bags from Container Store, pictured above, or these Vinyl Sweater Bags from Amazon) for off season clothes that should not be hung (e.g., sweaters) or clothes that I otherwise keep folded (socks, hats, workout clothes)
b) push everything that *is* hung either to the back of my closet or relocate them to a second closet, and
c) evaluate my clothes as I move them around for questions such as: 1) do they need repair? 2) will I ever wear this again? c) should I sell, give away, or trash? d) Can I fit into this *rightthisinstant*?
Weirdly, this is one of my favorite traditions each season. I love the fresh colors of pastels, and the darker, more somber colors in the fall. I also love the feeling of rediscovering old clothes that I haven't seen for a few months. (In fact, I love it so much I've started putting away things that aren't even necessarily seasonal — running t-shirts, as well as at least half my collection of black tops and half my collection of white tops. It may even help me shop less!) I also love that it helps me prune my clothes, and keeps my wardrobe looking fresher.
Our Best Seasonal Clothes Storage Tips
Now, a few notes about doing it right…
a) Do not pack away anything that is dirty or has been worn. Even if it's a suit that you've only worn once and don't want to get dry cleaned, I would advise keeping it among your "current" clothes until you dry clean it. Ditto for winter coats and the like — get them dry cleaned first. (Remove the plastic bags and paper, and let them air out for a bit before you pack them away, also.)
b) Cedar it up — places like Bed Bath and Beyond and Amazon abound in cedar moth balls
, as well as hanging cedar sticks — it never hurts to stick a few in drawers, in plastic storage bags or hard-cased under-bed bins, or to hang in your closet. Be sure to change them once every year or so — they're not expensive, and it pays to do so. Occasionally I'll stick a used dryer sheet in the plastic case, as well as the cedar, to give things a "fresh" scent.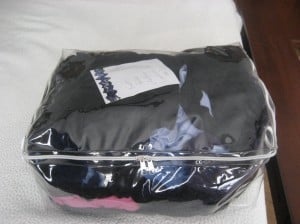 c) Label! It doesn't have to be fancy — I tend to just scribble on a piece of paper, "Kat's Fall Clothes," and stick away. But you'll be amazed how much you'll completely forget what's in there, or even that you have the clothes in there — so do your best to label. (See my own lump of clothes, at right.)
d) For folded clothes, prepare for wrinkles. I still haven't found a great solution for this — I often just hang things up while I'm taking a shower so they get a bit steamed. While putting away my spring/summer clothes this year, I tried rolling instead of folding — I'll let you all know how that works out.
e) A thought on Space Saver bags: when we moved recently, I bought a pack of these and was absolutely amazed by how much everything shrunk down. Blankets, sheets, workout clothes, etc — with the air sucked out they were amazingly flat and packable, and I'm glad I had them for the move. However, I will say that almost all of these babies have since leaked air and puffed back up to their usual size — so I'm not sure I would counsel investing in these things if you intend to use them for condensed space for several months at a time.
Fortunately, I've never had to deal with a bedbug problem — readers, please write in if you have. Ladies, what are your clothes storage solutions? Any other fun seasonal closet traditions?

Psst: these are some of our latest favorite ways to store jewelry; many of the products are for your closet!

Picture below via Stencil.