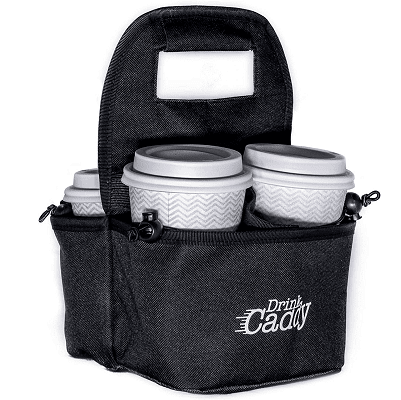 I've seen a lot of people lately making fun of themselves and their "emotional support drinks" — it rings true because I'm also one of those people with the huge 32-oz water bottle + coffee + afternoon tea + lunch diet Coke. And an occasional smoothie or shake. Give me all the liquids!! (It is driving me crazy that I cannot find a good link to an influencer talking about this recently — I swear I saw a Holderness video on this at the very least, and accordingly just fell down a 25 minute rabbithole watching Holderness videos.) (Update: here's the 3-second Holderness TikTok.)
ANYWAY: all those different bottles can be a pain to carry if you don't want to make multiple trips — so when I saw someone on TikTok talking about how she got this drink caddy for all of her daily drinks, and I thought it was brilliant! Whether you're going into the office, to a coworking space or other remote work space, or even just at your home if your workspace is on another floor or far from the kitchen, it could come in really handy.
(Yeah yeah yeah it can also be handy if you're being nice and bringing back other drinks for other people, or loading up drinks for the family for a long drive or something.)
The drink caddy is $19.99 at Amazon.
(Along similar lines, this other drink caddy goes over suitcase handles, which I can see being really helpful for those times where you just need a second to put your drink and phone down so you can get your ticket out or whatever.)
This post contains affiliate links and Corporette® may earn commissions for purchases made through links in this post. For more details see here. Thank you so much for your support!
We are a participant in the Amazon Services LLC Associates Program, an affiliate advertising program designed to provide a means for us to earn fees by linking to Amazon.com and affiliated sites.
Workwear sales of note for 9.29.22 (our favorites in bold!):
Other Sales of Note: