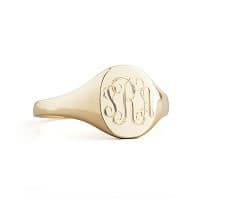 I remember reading (I think in Nina Garcia's The One Hundred) that a woman should always have a signet ring — it was an interesting idea that seemed more fitting if one has, say, a family shield or crest of armor — but it's stuck with me enough over the years that I like the idea.  This oval signet ring is your typical monogram, "boasting your initials in shining gold."  Nice. It's $498 at Neiman Marcus. Sarah Chloe Gold Lana Monogrammed Oval Signet Ring
If you're looking for a more affordable option, of course Etsy has a zillion roads to go down — if you're into actually using a signet with sealing wax for mailings, do check out Back to Zero's offerings — beautiful.
Admin Update: Thank you to everyone for your patience with our tech troubles today — hopefully they're fixed for the moment.