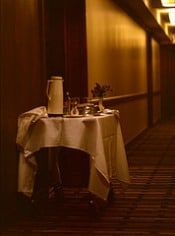 Has life ever gotten so crazy that there was NO WAY you could work out? Sure, exercise is important, and everyone should do it regularly. We all know that. But Jewish Girl, the blogger behind Stuff Jewish Girls Like, reminds us that you shouldn't feel guilty if it seems impossible right now to fit in regular workouts. Life (i.e., a crazy work schedule) sometimes gets in the way. I forget how I first discovered her blog, but I've been a reader for a few years — her life as a busy associate in a BigLaw firm (and adventures with shopping and fun stuff like the 30 Day Shred) sound, well, very familiar to me. Welcome to the blog, JG! – Kat.

Hello, Corporette readers! I'm JG, and up until last month (when I left private practice for a government job) I was a third-year associate at a big civil litigation firm. Before leaving, I found myself assigned to a particularly challenging trial team. The hours were extremely long, the room service was extremely plentiful, and within no time my pants followed suit: they became extremely tight. The experience taught me something new about exercising in the midst of utter professional chaos. I'm not talking about the chaos of working a few late nights or early mornings. I'm talking about the chaos of suddenly moving to a new city, living out of a hotel room, and working a seemingly never-ending string of 17- to 20-hour days.
Two weeks into the trial, somewhere in between my 3:30pm mango papaya smoothie and my 3:30am order of buffalo wings (with both ranch and bleu cheese dressing, because this girl loves her options), a fellow lawyer told me about a handy-dandy seven-minute workout anyone can do from the floor of their hotel room. It's apparently perfect for those occasions when you are short on time and can't devote yourself to a full hour in the gym. Great idea, right? After all, EVERYONE has seven minutes! Right? Sure! What's more important that physical fitness, after all? Certainly NOT an extra bleu cheese dressing (just in case the ratio of cheese chunks to dressing was off in the first batch). Certainly not that.
The thing I learned about exercise while on this particular trial team — something I think we are taught to believe is never, ever true — is that sometimes you don't even have seven minutes to exercise. Sometimes, you absolutely don't have a single second to do anything other than work, eat, or curl up in the fetal position and cry until you fall into the fever-dreamish sleep of being completely, utterly, soul-crushingly overworked. And that's okay. Sometimes, the biggest health-related victory of the day is simply not ordering the buffalo wings for a third night in a row. Sometimes, that's okay.
Now, I'm not saying making time for exercise is unimportant. I'm not saying we shouldn't find ways to stay fit and healthy when our normal routines are upended. Certainly, finding ways to squeeze in a workout even when we don't have a lot of time is an important skill. Certainly, smoothies and buffalo wings and no exercise do not a sustainable lifestyle make.
But I believe that there are some times when the most loving thing we can do for ourselves is forgive ourselves the buffalo wings, put on our emergency stretchy pants, and resolve to do better once things settle down.
Maybe I'll start with that seven minute workout.
(Pictured: Room, Serviced, originally uploaded to Flickr by ageing accozzaglia.)
—————
* As always, this guest poster has been invited by Kat to post on a subject of interest to the community. We value having different and diverse voices here, and indeed part of the benefit of guest bloggers is broadening the dialog beyond Kat's own views. To that end, please note that opinions expressed by guest bloggers, like opinions expressed in comments, do not necessarily reflect the opinions of Kat, Katfry LLC, or any of our sponsors or other contributors.