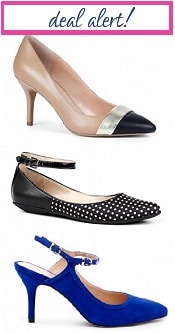 Disclosure: This post is sponsored by Sole Society, but written by your regular friendly blogger Kat Griffin.
If you're looking for some fun shoes to perk up your summer work wardrobe, there's a great sale going on at Sole Society right now (mostly final sales, alas).  There are a ton of of classic styles in numerous colors, with many enthusiastic, glowing reviews.  We actually have another sponsored post from the brand coming up next week, but because the crazy sale going on right now only goes through Tuesday, I wanted to post something now!
  I'm MOST in love with the shoes pictured at left (they're even bigger below the jump), but there are so many choices just from the sale section it's hard to narrow it down.  The beige pump at top (Yasmin) comes in three other colors and is currently marked to $15 from $50, the black polka dot flat (Kirby) comes in EIGHT other colors, has 59 positive reviews and is marked to $18 from $60, and the cobalt blue pump (Alexandra) also comes in black and lavender, and is marked to $28, down from $70 (and is sadly out of my size — I think I'm going to cry).  Bigger pictures and more picks from the sale below (the sale prices are not reflecting on hover for some reason — but most of the prices come down to $20-$30).  I'm mostly in love with the shoes but they have jewelry, bags, hats, scarves, and more.