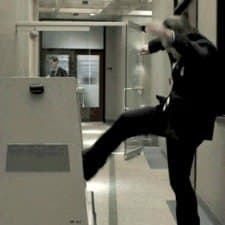 2017 Update: We still stand by this advice on how to deal with difficult coworkers, but you may also want to check out our more recent advice on how to deal with extreme coworkers. 
How do you deal with difficult coworkers, such as those who are overemotional or throw temper tantrums? Should the strategies for dealing with difficult coworkers differ if it's a small office versus a big one? Reader M has a great question about dealing with an assistant prone to temper tantrums:
I've seen several postings about crying at work, but my question is about how to deal with temper tantrums. I have been at my 9-attorney firm for a year. The partner's legal assistant also works for me. Several times, she has gotten so frustrated with the printer or other machines that she slams or throw things. Offering to help has not worked. How to respectfully deal with the inappropriate behavior? (This partner is rarely in the office, and the other does not get involved.) Or ignore it?
WOW. I've heard a lot about screamers in law firms (and have dealt with a few myself, even ducking a few flying redwelds and binders) but they were always high-level, super valuable employees — and I must say I always thought that was why they were able to get away with such behavior. Specialized knowledge, good relationships with clients, unique insights — but I've never heard of a fungible, easily-replaced employee throwing such tantrums and expecting to stay in their job. So I think you have to approach this with the presumption that she is NOT easily replaced, and if you make too many waves about this (as the new hire) then you will be the easier one to replace. A few quick ideas for how to deal:
Try to understand why she gets away with this behavior. Does she run the partner's office in such a way that it would be too difficult to onboard a new employee? Does she have a relationship with someone at the office (familial or otherwise) that might make her difficult to fire? All I'm saying is, if she knows where the bodies are buried, there's no real hope of getting her terminated or changing her behavior.
Ask yourself why it bothers you. Of course her behavior is unprofessional and childish, but putting that aside: Do her tantrums leave messes that she doesn't clean up (or then distract her from other work), or are her destructive temper tantrums loud enough that it's difficult to concentrate? Do you worry it looks bad to clients who may be in the office? Those are all solid reasons to go to one of your shared bosses or discuss with her directly.
Keep her at arm's length. Get what you need from her, stay polite, but don't try to change her or otherwise really influence the situation. Think of the serenity prayer, which can sometimes apply to a lot of small office politics: "God, grant me the serenity to accept the things I cannot change, courage to change the things I can, and the wisdom to know the difference."
Move on. Keep an eye out for other job opportunities.
Ladies — have you encountered any difficult coworkers like these? What was your solution, or what would your advice be to reader M? 
Pictured: I couldn't decide whether to go with the Gaad-kicking-Mail-Robot scene from The Americans or the scene from Office Space where the guys kill the printer (or, ha, was it a fax machine?) — so here are links to gifs of both.