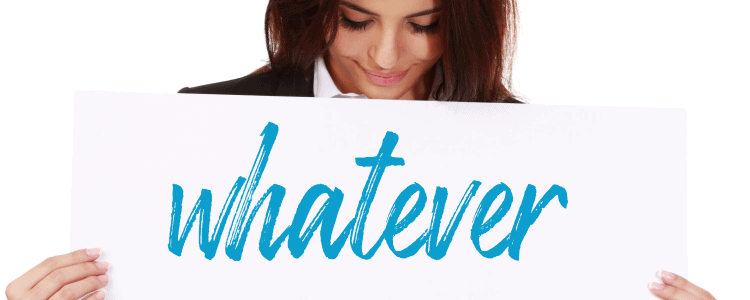 A few weeks ago I saw an interesting Twitter thread from Business Insider about how, while there's much being written right now about "the Great Resignation," there's actually something more common happening around the globe with workers: disengagement.
They posited that instead of outright quitting, people were disengaging with their work — phoning it in, not taking on as many projects as they could, feigning being busy. (Acting like there's more to life than career! The nerve!) I thought it was a really interesting topic — particularly when set against what a lot of us probably think about now as "leaning out" (or even just general work-life balance!!) — so let's discuss.
Have you ever disengaged from work instead of quitting? Have you ever managed someone who disengaged from work instead of quitting? Where are the boundaries between disengaging, leaning out, and having healthy work-life balance — and is there a business etiquette associated with them? (And how does all of this compare to burnout?)
Psst — they're also calling this "quiet quitting"!
Some great quotes (all taken from their Twitter stream because the story is behind a paywall)…
What leaders don't grasp is that their turnover problem goes beyond employees finding new opportunities.
Companies are actively driving their white-collar workers away by presuming that employees are still thinking the way they did before the pandemic: that their jobs are the most important things in their lives. … [but] many workers [have begun] to question the validity of their career as an identity.
Though the unemployment rate has stabilized from the uncertainty of the pandemic, Gallup found that employee engagement dropped in 2021 for the first time in a decade.
Only about a third of employees reported being actively engaged in their work.
I recognize this from my own work history, to be honest, although I would have called it "treading water" instead of being disengaged. At a certain point in my legal career I decided other matters took priority, and instead of Striving! to! Make! Partner! or even looking for a better job for the long run, I just… treaded water at my BigLaw job. I did the work assigned to me without being overly concerned about my ultimate hours. I still worked late, still did good work (on good cases, for the most part; I was very lucky in my career!) and still got my full bonuses … but it was a far, far cry from the Go-Getter attitude I'd had all during law school and the first year or two of practice. (I would not advise this in the BigLaw of today… I could kind of get away with it way back when because business was booming.)
I remember thinking at the time that this was the natural way of things — a sign of adulthood, even — that instead of trying to "go hard" the way I'd gone in law school, I should recognize that my career has a longer timeline, and that my career shouldn't be the only thing in my life. (I actually used to have the mantra "My job is not my career is not my life.") It was me trying to find some semblance of work-life balance, for the first time ever in my life. (I also have some shame in even telling you guys this, even though so many years have passed — like I was doing something wrong by not Striving Super Hard to be the best third year associate to ever third year associate!)
I'm really interested to hear what you guys think about this. For my own $.02, I'd define these slight but important differences:
Treading water / being mildly disengaged / "prioritizing work-life balance": Doing the work required of you but nothing more — "keep the job" instead of "advance the career" kind of thinking. I'd hopefully think most pandemic-related work disruption would fall into this category, e.g., as parents manage erratic school schedules / sick family members / disruption of regular care schedules.
Being burned out: Being unable to engage with work at the level to which you'd like to because you actively need to prioritize self-care, sleep, Life Outside of Work-type things to reconnect with yourself — "Who am I and what am I doing here?" kind of thinking, with job/career being totally secondary.
Leaning out; Similar to treading water but perhaps with a set end date (baby's second birthday, for example, or birth of a second child); hopefully done intentionally enough that there's a conversation with management about flexible work, reduced hours, etc. "Pause/decrease the job in a way that leaves you an on-ramp back to full job/advancing career" kind of thinking.
Disengaging instead of quitting: Intentionally doing as little work as possible, feigning being busy, and taking every shortcut necessary. Think George Costanza. I would call this kind of thinking "indifference to end of career/job."
Readers, what are your thoughts? (And are there other categories that you would add in this list — go-getters who are striving to prove themselves at the job? Movers who are intentionally trying to level up their career by seeking a new job or more responsibilities/titles at their current job?) Do you think workers should signal to their managers as they move in and out of these different attitudes toward work, or that business etiquette dictates that conversations be had?
If you've managed people in any of these categories, were there red flags for you as a manager — and how did you handle that? For readers who recognize themselves as being disengaged or treading water, how did you reengage or "start swimming" again?
Stock photo via Shutterstock / Dean Robot; "whatever" in font Perfect Redemption.