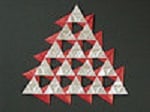 Reader A has a great question about having a differently sized top and bottom:
I am a second-year lawyer at a big law firm in New York, and my largest problem in terms of dressing professionally, rather ironically, is my small bust. Most dresses and blouses appear to be made with at least a B cup in mind, so I am constantly having to get them tailored and paying the extra money that comes along with it. If not, I look like I am playing dress-up. I am 5'7″ with normal-sized hips, so petite sizing is not always a good fit.

I checked your archives and found plenty of resources for the well-endowed women, but less for small-busted women (please let me know if I missed a post on this!). If you or your readers know of any clothing lines or brands that make button-up shirts or dresses for smaller chests or had any other tips for me in terms of dressing professionally with a small bust, the information would be most appreciated! I would also appreciate tips on good bras for small chests — even though I like my body and giving the appearance of having more on top than I do isn't a huge priority to me, it might be helpful to other ladies with similar body types.
Wow, great question, and I'm sure one that other readers share. This isn't something I've talked about with friends or read about, though, so I'm a bit stumped — and fascinated to see what readers say! I had a roommate in law school who had been told she was a size 2 on top and a size 10 on the bottom, so this can be a significant problem. (Pictured: Triangle quilt, originally uploaded to Flickr by Melisande.)
a) Re: tailoring: I think you're on the right track here to get things tailored. One minor issue may be that you're so used to the tailored look and feel that you're annoyed that things off the rack don't fit you perfectly that way. But in my experience, things off the rack don't fit anyone perfectly — I could probably find at least one thing wrong with anything that isn't tailored or a stretchy material. Which leads me to my next point…
b) Aside from a few tailored pieces, try incorporating more stretchy, fluid materials in your wardrobe, or looser fitting pieces. A number of my friends who are small-busted wear a ton of loose silk t-shirt blouses (such as the one we featured last Wednesday); you may also want to look into silk jersey — tops and dresses by Diane von Furstenberg and the like. We just ran a post on the best t-shirts for beneath suits; you may want to check that out.
c) For suits, buy separates. Sometimes suits are sold as a set — there's one price for the jacket and the bottom — but many times they're sold as individual pieces so you can buy a jacket in a size 2 and pants in a size 10 (just for example) if that's what you need to do.

Readers, what are your tips for accommodating a small bust but normal-sized hips? What do you do in general when your top and bottom are in two different size ranges? How about Reader A's question re: bras — any favorite brands to recommend?