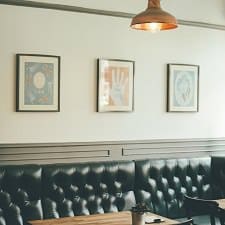 2018 Update: We still think this is a great discussion of what to wear to an informal interview — but you may also want to check out our more recent discussion of what to wear to an informational interview.
We haven't answered this kind of question in a while, so we thought we'd answer reader K's question…
My dream job has requested an "informal" interview for this week. The purpose is for the potential new boss to become familiar with my communication style; a formal interview would follow if I am successful. He is looking to meet at a coffee shop anytime during the day, evening, or even on the weekend.

How do I dress for an interview that is labeling itself as low-key? I'm not a JD or MBA, but I do have an advanced degree in a profession known for being a bit more casual. I feel like a cardigan should be included, but beyond that, I am clueless. Thank you!
First off: congrats on getting the informal interview, and good luck on the interview whenever it takes place.
Second:  Avoid the weekend interview at all costs. Talk about a confusing dress code! On a weekday interview, if you're overdressed, then maybe it's because of your current job's requirements. It doesn't matter if it's in the evening or during the day, but the important thing is that you are coming or going to your job.
For my $.02, I would avoid a cardigan for a job interview. It doesn't convey authority, competence, or intelligence — or really any of the general things you want a prospective employer to think about you. It might convey that you're demure — it will definitely convey that you're chilly. (I have no problem, obviously, with wearing a cardigan to work — I am wearing one as I type this.) I think that for an interview — particularly a first one — you want to make the best impression possible, and that, to me, means a blazer at the very least.
That said, were it my dream job, I would bust out a full suit. (Originally pictured, Elie Tahari Exclusive for Nordstrom 'Ava' Jacket
, available at Nordstrom for $298. Also, be sure to check out our guide to interview suits.) I'd probably stick with a pants suit for the "informal" interview — perhaps even in a "friendlier" color like a gray or a brown — and amp up to a skirt suit in a more severe black or navy for the "real" interview, but that's me. If it's a job that really, really does not entail any sort of professional wear then I might go with a sheath dress and blazer, or perhaps a pair of non-matching trousers, paired with the blazer. (Incidentally, I'm hard-pressed to think of a career that doesn't require a suit occasionally — even a kindergarten teacher, who may be working on/near the ground with kids, would wear a suit from time to time. I often think of doctors as being fairly casually dressed in real life, but I would still think a suit would be appropriate for an interview.)
Readers, what are your thoughts for reader K's informal interview attire? Can anyone think of a career where a suit wouldn't be appropriate? What are your best tips on what to wear to an informal interview?
Current social media images (2018) via Stencil.