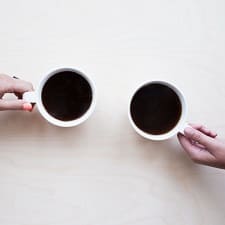 2017 Update: We still stand by our advice on what to wear for informational interviews, but you may also want to check out The Ultimate Guide to Business Casual for Women. This recent threadjack on what to wear for informational interviews at law firms may also be of interest to you.
What's the best way to dress for informational/informal interviews that may or may not lead to "real" job interviews? Should you play it safe and wear a suit, or is it appropriate to dress a bit on the casual side? Reader L wonders what to wear to an informational interview…
I was invited to have "a conversation" with a very powerful woman at a foundation where I would love to work. For the initial conversation, I was advised to wear business casual. I felt my choices were right on — sleek understated black pants, closed-toed shoes with some skin showing, a high-end plum jacket in wool crepe, and some very interesting but not flashy jewelry. My conversational partner wore exactly the same components, but my choices were a couple steps dressier than hers.

The conversation went well, and we will continue our discussions. My question is what to wear to the next meeting. I have a summer suit I would be inclined to wear; even though it's casual (navy/white linen tweed pants with a matching open jacket), it is more serious than anything I've observed at the foundation. But, I'm not sure if this meeting is the time to wear it. What if this meeting is then followed by a formal interview? I will already have worn my best choice for an interview suit.
Congratulations on starting the conversation, Reader L! These casual interviews are always nerve-wracking, whether they're informational interviews, internal interviews, or even everyone's favorite, the "not-an-interview interview over coffee." Previously, we've talked about how to dress for a kind of "pre-interview" that might lead to a real one, what to wear for an "informal" interview, and what to wear for a networking lunch, and I think your outfit instincts sound spot on thus far. A few notes though:
First, is there a job open there? This is always a good question to ask during these "let's have a conversation!" non-interviews. Are they creating a new position? Or is this a capacity where you may be able to do some freelance work/consulting? Is it at all possible that the foundation is recruiting you to be a board member or to otherwise volunteer or contribute to the foundation? I'm going to assume going forward that there is a job there.
For the second meeting with her, I would definitely say the summer suit is a good choice because it sounds like what I would call a "fun" suit, like the ones we profile every week in the Suit of the Week. It's a linen tweed, which will probably wrinkle, and you say it's summery. If it's a casual office I think this would be fine, but considering the degree of formality you're already at — I think I agree that an actual interview suit would require another step up from this. So: wear the summer suit for the second "conversation."
For the actual interview, obviously know your office (and your region), but I would suggest going as formal and conservative as possible. Here's why:

If the interview is with board members of the foundation, you will likely be meeting with people working outside the foundation — these are often partners at law firms, bigwigs at banks, and people from other conservative industries. You may even have to go to their offices to interview. (I know this was the case when I worked for a non-profit — my final interview was at the office of the president of the board, not at the non-profit's office. My future boss was not in attendance; this was my first time meeting the Very Important Person with whom I was interviewing.) A conservative suit, if you have one, reads as "interview appropriate" no matter what kind of situation you're walking into.
Even if it's an interview with the powerful woman you've already met with, I say, dress up a little — it shows you want the job. You may want to add a familiar touch you wouldn't have added otherwise, to show a bit of personality — a statement necklace, or a bright accessory — but I'd still say to stick with a conservative suit.
Readers who've interviewed and worked with foundations, charities, non-profits, and not-for-profits, what is your advice for Reader L? For "casual interviews" in general, how do you choose your outfit, and how do you "step it up" as you move through the interview (or non-interview) process? What do YOU wear to informational interviews? 
Current image via Stencil. (Original image (2015):  Black & White, originally uploaded to Flickr by Kevin Spencer.)