Because everything old is new again, scrunchies, headbands, and claws are back in style and being offered as hair accessories for grown women, and I can't wait to hear readers' thoughts on them.
I know some people have always been Team Scrunchie; I myself have always been Team Claw (and of course, the old black Ouchless elastic I wear on my wrist pretty much every waking hour). But there are strong opinions about this!
Are you going to give headbands a whirl in 2018? Are some of the more decorative options (like the goldish star claw) just not appropriate for most women over a certain age (like 16)? For those of you who have strong opinions FOR hair accessories, which stores make the best hair accessories in terms of comfort, durability, price, look, etc?
Psst: Below, find some of our favorite hair accessories for work as of 2023. Note that some of our long-standing favorite brands for quality, durability, comfort and styling include Ficcare and France Luxe. For more affordable options (which may not last as long), keep an eye out at Anthropologie, Ann Taylor, and J.Crew stores (including J.Crew Factory and Madewell). Also: Kat loves these flat elastics.
This post contains affiliate links and Corporette® may earn commissions for purchases made through links in this post. For more details see here. Thank you so much for your support!
Psst: our last poll on what kind of hair accessories are appropriate for the office … in 2009!
(Pictured above, all from Free People because I happened to be browsing the site: kimono clip / scrunchie / claw / headband. And for those of you who are on Team Drugstore Elastic, do you prefer Goody Ouchless or Scünci? Has anyone tried "Amazon choice" of Munax?)
For my $.02, I probably will give headbands a whirl again — but only with ones I already own. I'll probably skip the scrunchies just because I don't think my round face shape looks particularly great with a low ponytail, and I feel like that's where scrunchies excel. I've always like claws for comfort and an easy half-up-do or (with a huge claw) a French twist — but those tend to be bad hair days for me so I probably don't want to try more attention to my hair with something really decorative.
Looking for more sedate options for hair accessories for grown women? Ann Taylor, J.Crew, and Nordstrom (particularly from these two drool-worthy brands) have a ton of similar styles.
Ladies, let's hear from you — what are your thoughts on hair accessories for grown women? What looks do you wear the most for work and play — what products are you excited about to be back in style?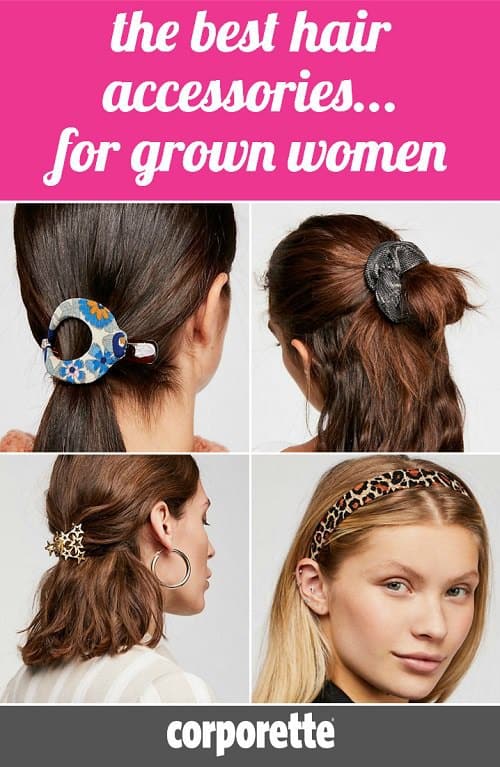 We are a participant in the Amazon Services LLC Associates Program, an affiliate advertising program designed to provide a means for us to earn fees by linking to Amazon.com and affiliated sites.