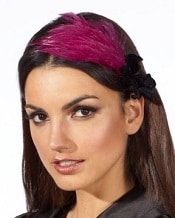 One of the article ideas that people often offer us is to do an article about which hair accessories are appropriate for the office.  Yet we've always hesitated … well, primarily because we don't know if anything is appropriate for the office beyond low-ponytail type hairbands.   Headbands always seem too prissy / 1980s / wear-in-your-early-20s kind of things.  Barrettes seem so middle school.  Fanciful bobbypins seem too… Drew-Barrymore-in-the-early-90s.  Anything to assist with a bun seems too… ballerina-like.  But maybe we're off base here — what are your thoughts?  Any favorite brands or haunts where you find great hair accessories?
Picture above:  Feathered Flower Headband, by Bebe, now $49.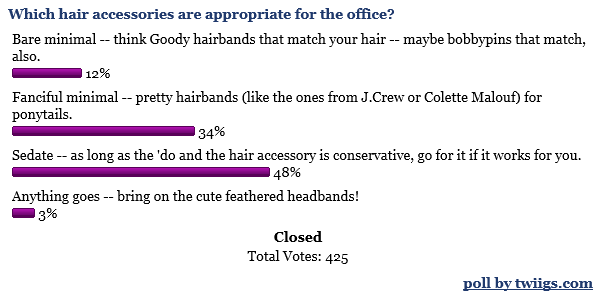 As a side note, did anyone see Bride Wars over the weekend?  What were your thoughts on Kate Hudson's hair at the first big client meeting?