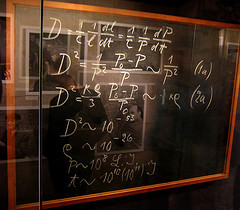 Reader L wonders if she can ask her adjunct professor for help finding a job:
I have an etiquette question for you. I am a third year law student looking for a job after graduation, preferably at a small firm or a nonprofit. One of my classes is taught by an adjunct professor who practices in the field I want to work in. What is the etiquette behind approaching him to see if he knows people who might be hiring? Thanks for any advice.
I'm curious to hear what the readers say here. Here's my take:
Can you ask him if he knows of any open positions? Absolutely; there's nothing inappropriate about that question. But let me warn you… here's how that conversation is going to go: "Do you know of anyone who's hiring right now?" Adjunct professor, thinking briefly of any jobs he's heard of that day or week: "Nope. Sorry!" He won't be offended, but you're not likely to get much out of the exchange.  (Pictured: Einstein's blackboard, originally uploaded to Flickr by rich_w.)
So here's what you actually want to do: network with your professor. You want him to think of you when he sees a job a month from now, or two months from now, or maybe even three years from now. You want him to tell you the lay of the land in that field: who are the big players? Who are the big clients? Where is it heading? What are his favorite niche publications? Which is his favorite conference? What are the "offshoot professions" (there's probably already a term for this, but I'm going to make up my own term for it right now) — the roads that people take if they decide they want to use their knowledge and expertise, but don't want to be Niche Lawyer? (For example, in media law people sometimes became agents; sometimes writers themselves. They also sometimes went to work for media insurance companies.) Particularly in a tight job market, you might need to expand your search to include the offshoot professions, with hopes that you'll still gain helpful resume experience, and networking connections, that will eventually land you your dream job.
So ask him to lunch. Make friends with him — tell her the truth, that you admire him, would love to be in his shoes, and want his advice. Ask him how he got to where he is, and slowly start to work in some of the questions above. At the end of lunch, ask him who else you should talk to — my guess is he'll be happy to give you at least one or two names of people he knows. Your goal should be to come away from lunch with your professor with at least three action steps for yourself: something new to read (preferably an email newsletter or something free and regular), contact information for someone else to ask to lunch, and a few new Google searches to run yourself on the players and other facts you learn about at the lunch. You may even have a job to apply to, or an upcoming conference to try to attend.
Now the part that may be hard: asking an older man to lunch. There is nothing wrong with asking him to a one-on-one lunch, and if you have the guts to do it, my hat is off to you. Personally, I didn't have the guts — when I was in law school, taking a class from one of the top lawyers in my preferred field, I wound up asking my adjunct out to lunch along with another classmate, my roommate's boyfriend at the time. (Brutal honesty here: I wasn't threatened by my male classmate at all — my worst nightmare would have been if my lunch date became the Golden Boy at my expense.) More reading for you: The Careerist just talked about how men are very wary of networking with younger women. Joy.
Readers, what is your advice for Reader L? Do you have any great experiences you can share where you turned an adjunct/student relationship into a long lasting relationship?
Update: As readers are pointing out, the best way to get on the adjunct's radar is to do really well in the class. You may also want to wait until after the semester is over before asking him out for lunch (although I honestly think I asked my adjunct out for lunch while the semester was still ongoing, perhaps because it was a small enough class that our final in-class exam was done with numbers instead of names or some other blind grading method).