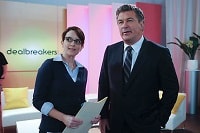 Can a younger woman network with older men without getting into questionable situations? My friend J told me of her interesting dilemma over the weekend…
She's traveling a lot for business these days, and on one of her latest trips she sat next to an older businessman. She's generally against talking to her seatmates, but wanted to have a bit of chitchat before she made him move to let her go to the bathroom — and she discovered that he's the Chairman of the Board of a huge non-profit foundation (like, huge). They exchanged business cards when they got off the plane. Great contact to have, right?
Later that night, the text messages started. They were friendly at first (to which she replied warily), then turned slightly suspicious (to which she increased her delay before responding, then finally stopped responding all together). They're no longer in the same town, but the question that's left is: can she still network with this contact, or should he and his possibly less-than-pure motives be left in the dust? Call me an opportunist, but I'd hate to throw away a potential networking contact like that just because the guy was a bit skeevy. We've talked about how to handle it when a potential client hits on you, as well as how to network when you're the low man on the totem pole, but not necessarily when a potential mentor/networking contact hits on you.

I've been in the situation myself, although in my case I think my defenses went up too soon — I vividly remember being asked "So what do you want?" when I took an older gentleman to lunch when I was around 23 (he practiced in a specialty I wanted to get into). Nothing but advice, I answered honestly, but I somehow still felt a bit dirty. I made sure that the next time I asked an older gentleman out to lunch (this time an adjunct professor whose specialty I was dying to get into), that I had a male classmate there with me at the lunch.
In my friend's situation, though — this VIP could open a number of interesting doors to her. He's a successful businessman with lots of contacts, and through his work with this big foundation he has even more contacts. His advice would undoubtedly be invaluable, and a very successful older friend is never a bad thing to have — you never know who will hear about the next big career opportunity. But how can she manage the relationship so it's clear that she's not interested in funny business?
For my $.02:
– I think the relationship needs to be managed the right way from the start. One of my female mentors (who came up when there were few women in senior positions) noted that she generally encouraged a "father/daughter" relationship.
– Know a bit about flirting so that you DON'T do it — simple things like
shake hands with him (businesslike — firm handshake, ladies!) as soon as you exchange names
do not touch his arm or encourage physical closeness of any sort (for example: don't show him your phone or magazine in a way that might make you two huddle together)
watch your eye contact — I've heard that "business" eye contact is between the eyes and nosebridge; "friend" eye contact is between the eyes, nose, and mouth, whereas "dating" eye contact involves, um, lower eye contact. Also, watch the duration of your eye contact.
perhaps put something between you and him — casually put your purse on your lap, or even an in-flight magazine.
don't seem too interested in his personal life
– As a "rainmaking litigation partner at a Biglaw firm" noted in comments a while back, "There is typically an inverse corrolation [sic] between the female summer associates that I want to date and the ones I want to hire. The qualities in the ones I want to hire are: hard-working, thorough, intuitive, and detail-oriented. The qualities in the ones I want to date are: flirtatious, spontaneous, and fun. Know which category you want to find yourself in and act accordingly."
– Shut him down quickly if it goes there. "I'm flattered by the attention, but not interested like that." This is better done sooner rather than later.
– Realistically assess when to abort if the attentions continue. What do you really want from this guy, and how many awkward conversations are you willing to endure to get there? In my friend J's case, I might suggest first studying the VIP's resume (which should be publicly available, at least on the foundation's website), and sending an email — from whatever email address is on her resume — to say it was nice to meet him, and then asking direct questions toward things she'd like to know from his background. E.g.: "After perusing your profile on the ___ website, I noticed that you had moved from <Field X> to <Field Y> — I'm interested in making a similar switch myself, and would greatly appreciate any advice you have on that point. Did you join any organizations, or find any reading materials to be particularly helpful?" And if his response is still a bit questionable — well, move on.
Readers, what are your thoughts? What would you do in this situation — would you try to salvage the contact or move on? What is your best advice for how to network with older men?