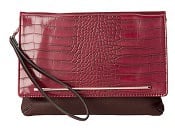 Something on your mind? Chat about it here.
I'm a big fan of clutches for hitting the town — it's a much sleeker look, bag-wise, than I normally manage otherwise. I like this clutch from Aldo for this holiday open thread — it won't break the bank, it's wearable for the holidays and beyond, and I can see it looking great with jeans or a dress.  It's $40, and available in three colors. Aldo Alpignano
Psst: Happy holidays, ladies! We'll be rounding up the noteworthy sales in the next few days, and next week we'll be continuing our Year in Review with some of our favorites from 2014 for TPS reports, coffee breaks, and suits. Stay tuned!