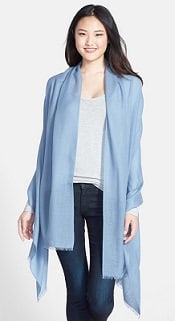 Something on your mind? Chat about it here. 
Nordstrom has the tissue-weight version of their cashmere scarf still at full price, at least in most colors (burgundy is marked 33% off), but for my money (and chilly shoulders) I like the wool version just as well.  It comes in 12 colors, all of which were $98, but are now on sale for $65.  Nordstrom Wool Cashmere Scarf
In honor of Memorial Day we'll be taking a long weekend; we've already rounded up the sales that have started and will be updating as necessary over the weekend.  I'm still somewhat hopeful to do a shoe/bag/accessory roundup of the Nordstrom sale for you guys — lots of good stuff.