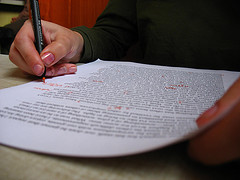 How can you improve your writing? Reader L wonders…
I am hoping that you and your readers can help me! I am looking for suggestions on how to improve my technical writing skills, either through online courses, tricks, tips — really anything.
This is a subject near and dear to my heart — in addition to being a writer, I taught Legal Research & Writing in law school. Here are a few tips from me; I'm sure the readers will have many more great ideas…
(Pictured: Pen to Paper, originally uploaded to Flickr by Orin Zebest.)
Nail down your grammar.  No, it isn't sexy, but grammar is really important. Most of my grammar knowledge comes from my time spent in journalism school (my undergraduate degree), where I became really, really familiar with books such as:
Nail down your spelling.  Yes, really. If a writer makes spelling errors, it distracts the reader from what you're saying and hurts your credibility. It's really tempting these days to let technology "help" you quite a bit, and one tip I have is to use auto-correct judiciously, not automatically. If there are things you should know, don't let your computer automatically correct you on those things! For example, for some reason, when I first got to law school I misspelled "judgment" about 60% of the time when taking notes. I'm not sure what my problem was, but I thought there was an E in there. That is a really commonly used word, and if I'd misspelled that on a handwritten test it would have hurt my credibility with the professor. So I needed to keep seeing the little red squiggle under the word — and review it every time I did a spell check — in order to teach myself how to spell it.
Know what you want to say. What is the purpose of your writing — to inform, to persuade? What is the ONE point you want the reader to come away with? What action do you want the reader to take? All of this should be said as clearly, and concisely, as many times as possible — in the subject line of the email or the re: line of the letter; in Executive Summary of the memo or the first sentence of the email, in the discussion section of the memo, in the summary of the memo, etc, etc. Something else to consider — what else will the reader ask? If you can answer it before he or she even asks it, you're doing a great job.
Be flexible in your own writing, because what you want to say may change as you're saying it.  One of the things I've done through the years is to write a first draft of whatever I wanted to say — an argument, a paper — and write it down as the words come out of my head. It's a great way to get past writer's block (because it doesn't matter what or how you say, it's just a first draft), but for me it's a way to organize my thoughts, as well, and sort of sound out the arguments. I'll usually then put the draft aside (for at least one sleep cycle, but a day if I can help it) and do an outline of what I want to say, without first referring to the draft. I almost always significantly reorganize and rework the basic structure of the piece, and most of the time I end up rewriting it, ultimately using about 20% of the first draft. It's a long process, but it's the one that works for me.
Find styles to copy. My favorite tip is one I heard long ago in a creative writing class:  when you read something you like, copy it out longhand in order to "absorb" a bit of that writer's style. I'm not suggesting you copy the entirety of War and Peace longhand, but find a passage that you like and copy it, word for word, punctuation mark for punctuation mark, out longhand. I have a special notebook for this purpose so that I can go back and read the different passages when I'm adding a new one. I've primarily copied fiction writers — Margaret Atwood, Woody Allen, P.G. Wodehouse — but if you find a beautifully written sample of writing in your specific field, copy that as well.
Know your weaknesses.  Let's just say a certain friend of mine <cough, cough> has a real problem with using way too many em-dashes and semi-colons. She says she's more of a Faulkner than a Hemingway (Faulkner once wrote a 1200+ word sentence that was completely grammatically correct!) but that doesn't give her an entirely free pass, and she knows it. Whenever she's working on anything very serious she makes sure to go through her writing and find instances where she can use short, declarative sentences instead of long ones. Varying sentence length helps the flow of the text, and helps give her writing more impact.
Read your writing on paper.  (I think this is my third anti-technology tip!)  For anything lengthy, I have to print it out and read it on paper — even if I've read it ten times on the screen, I'll find new things to fix. For very important things, I often will read them aloud, as well. (If you don't have your own office, find a space where you can do this without feeling inhibited!)
Finally, two last tips:

Read. A lot.
Write. A lot.
 Readers, what are your best tips for improving your writing? 
We are a participant in the Amazon Services LLC Associates Program, an affiliate advertising program designed to provide a means for us to earn fees by linking to Amazon.com and affiliated sites.