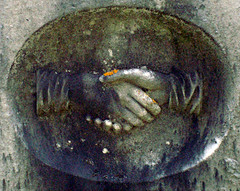 What are your best tips for interviewing with friends, readers? Reader J wonders how she can turn a temporary job into a permanent job, but is nervous because she already knows the interviewers…
After being laid off from an in-house counsel position several months ago, I obtained a part-time, temporary position in the same industry. After being here a couple months, the company opened up a permanent, full-time Associate General Counsel position. The job description is broader than what I am doing as my temp assignment, but I believe I am well-qualified. I also really like the company and my co-workers. I submitted my resume, and HR just contacted me to schedule interviews for next week.

What makes this situation unusual is that my interviewers will be the GC and others with whom I already interact on a daily basis. I think I interview pretty well; I have been offered nearly every job I have interviewed for since graduating from law school. But I am very nervous about this temp-to-perm scenario.
Congratulations on making it through to the first round of interviews! We've talked about how to change jobs within companies before, but we haven't really talked about how to interview with your current colleagues and coworkers.
To be honest, I'm not quite sure I understand your nervousness — this sounds like a great situation from all angles. From my perspective: your interviewers know you and your work product, you already know a bit about them and how to play the interview, it should be easy to figure out what the interviewer is "really" asking, and you probably have a better understanding of the new job and its demands.
When I interviewed for my last legal job (at the non-profit), I already knew my future boss, having interned at the non-profit during law school and having kept in touch with her through the years. I viewed that as a positive thing because I knew what to expect on the interview.
Don't get me wrong, I did my homework, just like I would have for any job interview: I scoured the non-profit's website, I read up on the particular area of the law that they wanted the new position to focus on (I read an entire treatise the nonprofit had put out on the subject, actually), I went through recent newsletters and publications to find other new cases and issues to discuss at the interview, and I did my best to figure out what was "missing" or what I could add.
(And yes, I wore a suit, even though I knew it was a business casual office.)
I always advise anyone going on a job interview to focus on what you bring to the job, but here that "let me help you" vibe was magnified because I was excited to show my potential boss how I could make an impact in the job, how my background would be perfect for the position, and how my approach to the job would be the right one.
I also went into the interview with the theory that if she didn't like my approach, or if she found another candidate who was better qualified — well, so be it — and I like to think that we would have stayed friendly even if I hadn't gotten the job.
You haven't said whether or not the new job will be replacing your temporary job — or if the temp job will still exist after they fill this position. If they do fill the position with someone else, do your best not to be bitter about it, and carry on like the professional you are.
It is a little weird that the company didn't come to you directly to let you know you should throw your hat into the ring for the position, but that possibly can be chalked up to corporate bureaucracy — maybe jobs are created and advertised through a specific process.
In any event, I might do some extra preparation for what might be your perceived "weaknesses" — if you haven't done X before in this position, for example, I would make sure I had a number of specific examples of times you did X in previous jobs.
If there are new skills required, explain what your approach would be to learn those skills — and tell or remind the interviewer (again, with specific stories whenever possible) about how you've already learned Y and Z in the past.
Readers, what are your best tips for interviewing with friends and coworkers?