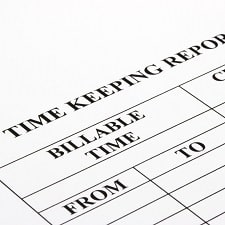 This question is for the lawyers and others who have to keep track of your time — what are your best tips and tricks on how to track billable hours? If you're a lawyer who reviews time sheets (either at a firm or in house), we'd love to hear your thoughts on what's acceptable, what's NOT acceptable, and what's a red flag for you… It's been a while since we've discussed time management, so let's ponder…
Here's Reader C's question:
I thought it might be fun to do a post about all things billing. For newer attorneys, or those interested in transitioning from gov't/etc., it could be really useful to learn the general rules and what more senior attorneys look for on their bills. For others it would be interesting to see tips/tricks for billing, key terms, billing as a way to market to clients and other related things. (E.g., my firm sends out a billing insert of a short article with each month's bills).
Great question, Reader C! In my experience people tend to fall into two categories here: the obsessive billers who keep track in 6- or 10-minute increments — and the people who will definitely, totally get you those timesheets from six months ago asap. (We're right on top of it, Rose!) The more cases and billable matters you have to keep track of, the more you have to be the first, obsessive person — whereas if you're stuck on one never-ending project (doc review, anyone?) you can swing towards the second end of the spectrum.
I'd love to hear your thoughts, though, readers — what are your best tips on how to keep track of billable hours? Does your company use any apps — or do you just have a notepad? How many hours do you find that you have to WORK to BILL 8 hours a day? What are your billable requirements — and have you ever done things like double billing (where, say, you take a flight for one client and bill it to them, but when you're on the plane work on a second client's matter and bill them as well?)? (Which, as readers note in the comments, is highly discouraged from an ethical perspective…) Where are the limits for you — if you spend ten minutes on the elliptical thinking about a client's issue, would you bill it?
Psst: you may also want to check out our most recent discussion on how to manage your time, as well as our recommendation for a billable hour spreadsheet to help you estimate where you are in target hours for the year.
Pictured: Deposit Photos / ziss26.