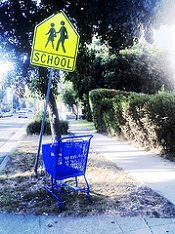 As an avid Internet shopper, I thought I'd share some of my top tips for deal-hunting with you. There are a number of clues that an Internet shopper can use to detect how the garment fits, how it looks, and so forth. I have my own theories, collected from years as a shopping civilian, as well as nearly three years of blogging about online shopping. So I thought it would be fun to start a discussion — what indicators do you look for when you're shopping?
(Pictured: Shopping cart school, originally uploaded to Flickr by kevindean.)
Good Signs
Lots of colors. When I find a shoe or a sweater that comes in lots of colors (4+), I generally think of that as a great sign that the manufacturer thought they had a hit on their hands when they made that item. It's also a great sign that the store buyer wanted to stock all of those colors.
Best-seller status. Particularly where this product has been around for years and years, I take that as a sign that the product is a great bet — the shoe is comfortable, the dress is flattering, etc.
Numerous seasons. Some products come back, season after season — and you may even be able to tell that when the same product appears in two different listings on the website.
Limited sizes. When only limited sizes are left, it's usually a sign that the item sold well because the customers loved it — and kept it. If there are only "higher" sizes left (12, 14, 16) you can "read" that as meaning the item maybe ran slightly big; if there are only "lower" sizes left (0, 2, 4) you can generally read that as meaning the item ran slightly small so everyone had to get a bigger size. If there are random sizes left (say, 0, 6, 10) that can mean a number of things — it could mean that the sizing was weird, or just that there truly are "lucky sizes" left, as I like to say.
Bad Signs
It's 60% off and all sizes are left. If there's something obviously wrong with the way the product was styled (and we've seen a lot of that here on Corporette — slouching models, too-short pants, Amazonian tall models wearing knee-length skirts that look mini), I generally take it as a genuine "buyer's find." Otherwise… well, watch out; odds are that product wasn't purchased and/or was returned a lot for a reason.
"Look Closer" Signs
"Editor's Choice." This really depends on the editor. I find that some sites choose things based on the quality of the item (I've found that true of ShopBop, for example) whereas for others it's about the curator's point of view (e.g., Piperlime and Rachel Zoe's picks). If it's a magazine editor's choice ("as seen in ___!") it really depends, again, on the magazine and where/how it was featured — I know that sometimes things are chosen because the editor was trying to create a trend article, or find something that looked a certain way for a certain amount of money — it may mean nothing about the quality of the item itself.
Review stars. I normally love customer reviews, but I find that it really depends on the customer in terms of the rating they give the item — some will say "I ordered this item and thought it looked cheap and like it might fall apart. Four stars." Others will say "I love this item and wear it all the time but I wish it fit me just a bit better in the waist. Two stars."
Readers, what signs do you look for when you're purchasing something on the internet?