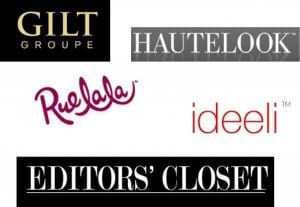 It seems like in a matter of weeks we have gone from total ignorance of the luxury sample sale sites on the Internet to complete overdose. These sites can be great for the woman who loves a sale but is constantly stuck in the office, so we thought we'd give you a round-up. Here's the ones we know about, and our take on them — please comment and tell us what you think of them, also. (Full text after the jump.)
In General
– If you aren't familiar with these sites, here are the details: you need to be invited by a friend to join. All sales are held on the internet only.
– Items are frequently "final sale."
– If you're browsing at the office, we highly suggest either muting your computer or closing your office door — almost all of these sites have music (loud, annoying music, in some cases) that starts without prompting.
– The sites offer various referral fees — if you invite a friend, and the friend purchases something, you may find yourself with a credit in your account representing your fee; it can be anywhere from $5 to $25 (depending on the site). It's a nice perk to membership, but don't expect to get rich from it.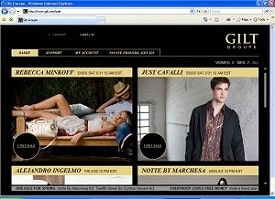 Gilt Groupe (screen shot above)
What They Say: "Gilt Groupe is a referral based online community dedicated to offering their members unique access to highly coveted luxury and fashion brands at the most desirable price points. Gilt Groupe hand selects both established and up-and-coming designers relevant to their membership base. Every Shopping Event is designer-specific and held over a 24 hour period (or until sold out.)"
What We Say: This is the best of the bunch, in our opinion. There have been lots of recent sales for jewelry, stylish dresses, shoes and lingerie. It's nice because you can sort by size, so you don't end up pining over something that you can't get. They sell men's items, as well, and will notify you about the sales if you sign up for that. Each sale has 20-30 pieces from one designer, so there's a boutique feel to the site — the other added bonus to that business model is that it means you don't get too many e-mails from Gilt. Price range: $80-$10,000 (the jewelry is expensive, but frequently marked down to the $2000-$5000 range).
Upshot: This is the site where we come to drool. We have not yet purchased anything from the site, but the well-edited boutiques are great. Jewelry is very pricy, but beautiful.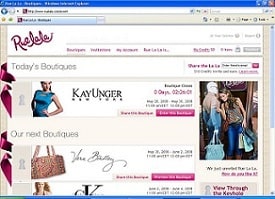 Rue La La (screen shot above)

What They Say: "Rue La La is… an exclusive, invitation-only online destination where Members discover premier-brand, private sale Boutiques, each open for just a brief window of time."
What We Say: There is a very annoying home page that features both 1) a very annoying whistling song and 2) a moving keyhole through which you see women shopping; instead of thinking "exclusive!" you think "I'm a Peeping Tom!" Still, this site has had good sales for business clothes. Last week featured Kay Unger suits and dresses; Vera Bradley bags were for sale over the weekend, and Calvin Klein swimsuits are now on sale. Price range is much lower than Gilt — we'd say $50-$500 — and the selection is good.
Upshot: In the week or two that we've been members, there have not been "exciting" brands or styles on sale, but almost everything for sale has potential to be that piece that you wear ALL the time. Price points are really good, and we can see ourselves purchasing something very soon.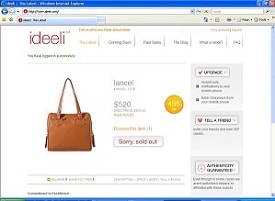 ideeli (screen shot above)
What They Say: "ideeli is a members-only shopping community that offers women's luxury bags, sunglasses, jewelry, accessories, fragrances and more for 50 to 90% off original prices from top luxury and fashion brands, plus giveaways every week. All of our items are new, in the original box, and authenticity is 100% guaranteed. Items are a mix of this season's and last season's."
What We Say: We're not gonna lie: this one is not our favorite. There are lots of designer bags, but none are really basic — depending on how you look at it they either have a European feel or are just a flat-out fugly a lot of the time. The whole site sort of feels a bit to us like shopping the bargain bin at TJ Maxx, where you find something that's so ugly! but a designer label! and in your price range! so you think about buying it for a long, long time, possibly even calling your mother to debate the issue. (Or is that just us?) We also don't like technical aspects to the site — instead of having 20-30 pieces from one designer the way Gilt and Rue La La have, this site has a tendency to put a few pieces from a designer on sale. ALL sale items, current and future, are listed on the same page, and you have to scoll down to see them (or navigate by using tiny pictures that are smaller than thumbnails). Because of the few pieces from numerous designers, the site tends to e-mail you far too often. Finally, this site has tiered memberships — which means half the stuff you're scrolling through is not available for purchase by you unless you're a member of the "First Row," which costs $7.99 per month. Price range is $100-$1000.
Upshot: We haven't bought anything from this site, yet, and probably won't. Deals aren't that good, format is annoying, and to our cold American hearts, much of the stuff is just ugly.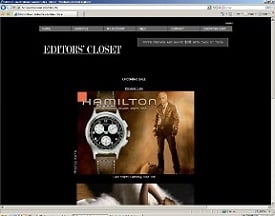 Editor's Closet (screen shot above)

What They Say: Editor's Closet is "a private club which organizes online, confidential sample sales for its members. We help you shop smarter by offering established and "up and coming" brands at strongly reduced prices (generally between -30% and -75% compared to the retail price)."
What We Say: This site seems to still have technical glitches — we've clicked on one sale to be shown another sale; we tried to purchase a bag a few days ago and are still unsure if we successfully purchased it because we never got a confirmation e-mail. Still, once they get the site fixed they have some great brands at some great prices: Hamilton watches will be on sale soon (men's classic watches); Longchamp bags were marked down a few days ago from $500ish to $180ish.
Upshot: Because of the glitches we've experienced, we can't recommend this one to anyone yet, but we do suggest you keep an eye on it.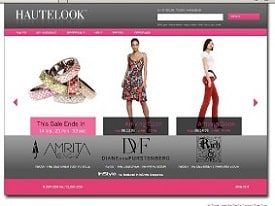 HauteLook(screen shot above)

What They Say: They never actually describe themselves on the page.
What We Say: We've just joined, but it looks like a good site for casual clothes — DVF dresses will be on sale soon (which we think are beautiful, but not necessarily as perfect for the office as everyone says), and Rich & Skinny jeans will also be coming up soon.
Upshot: We've only just joined, so we can't really opine on this one. Looks good.
Which site is your favorite? Do you know of another one that we haven't mentioned here?