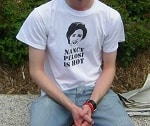 Jezebel has a piece today on Nancy Pelosi's style, inspired by a recent article in The New Republic. They also link to a 2006 WaPo article about Nancy Pelosi's style. All the pieces talk about her maternal style — the Tahitian pearls, the Armani suits, and how integral they are to her success.
We've posted a few fun quotes below…
Photo at left by Rob Goodspeed, courtesy of Flickr.
"Nancy Pelosi . . . is presently loathed by the Clinton campaign, some supporters of which charge — oh for fuck's sake — that she wants to maintain her status as the "senior skirt" in Washington. But there's the thing: Nancy Pelosi wears skirts. She schmoozes and flirts and has a feminine-maternal touch, and she always looks great!" – Jezebel
"[I]n the context of Washington, Pelosi cuts a distinctive figure. She gives the impression that she cares about the way she looks, but gives no indication that she obsesses about it. Such pride is an admirable quality and one that most parents attempt to instill in their children, admonishing them to sit up straight, polish their shoes, or smooth their hair for the class picture." – WaPo
"This look–in fact, the whole maternal role–is key to Pelosi's political identity. Pelosi may be tough, even feminist, but not in the in-your-face '70s way that Hillary Clinton is often associated with. She has never downplayed her femininity and is known for her Armani suits, Tahitian pearls, and oh-so-girly chocolate habit.The pronounced femininity works because it is naturally who she is, but it is also savvy politics: Such self-marketing undermines GOP efforts to paint Pelosi as a left-wing extremist out of touch with mainstream values. The speaker makes frequent reference to her years as a stay-at-home mom, while staffers and colleagues are quick to attribute leadership tricks and personal ticks to her time in the domestic trenches. Following Pelosi's swearing in as speaker, the media was awash in photos of her, gavel in hand, surrounded by her grandkids as well as the children of other members. She looked deceptively like your garden-variety grandma–albeit vastly better coiffed." – TNR
The interesting thing to us is the fact that those style tools are difficult ones to co-opt if you're in your late 20s or early 30s. That is the time your reputation begins to be built, that is the time you need to work the hardest to earn respect — and women are advised to emulate grandmotherly style. This is, of course, why we started the blog — we don't necessarily have an answer to it, but we wanted to start a dialog. Let's try a poll on this one…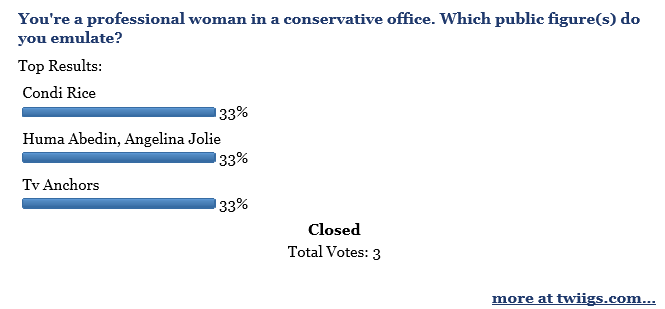 Nancy Pelosi: Love Her Or Hate Her, There's No "Ambiguity" About Her Sense Of Style [Jezebel]
Muted Tones Of Quiet Authority: A Look Suited To the Speaker [WaPo]
House Broker [TNR]