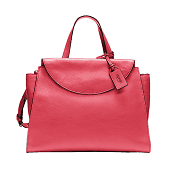 Reader A wrote in to recommend this fun tote/satchel from Kate Spade Saturday, noting:
I finally decided to give up my Longchamp and looked high and low for an affordable, structured bag that would fit an umbrella, small water bottle, large-ish wallet, phone, ipad, additional documents, and maybe lunch or something in a semi-organized fashion (i.e. not a tote). The A Satchel has two large main pockets, an internal zip pocket, phone pockets, a slim center pocket (which I now use for a few pens and a highlighter), and two slim exterior flap pockets. In a pinch I can even get a redweld in vertically without it looking totally insane or losing the functionality of the top handles. All of the pockets provide great structure (stands on its own tiny little feet) and it comes with a shoulder strap that is just long enough for a petite person to eke out a cross-body carry in a pinch. For $250, I couldn't have come up with something better myself.
Hooray! I like that it comes in nine colors (including black and camel), has a fun lining, and looks professional but stylish. As A noted, it's $250. Kate Spade Saturday A Satchel
Psst: check out their sale section – lots of cute stuff marked down to really affordable prices.