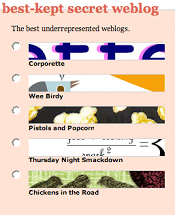 It's caught us a bit by surprise (we misread the deadline, tsk tsk) but today is the last day for voting for the 2009 bloggies! As we hope you know, we are a finalist in the category of Best-Kept Secret Blog. And we would love your vote — we want that Bloggie! Scroll to the far right when you get there; you'll need to enter an e-mail address and then click on a verification link when the e-mail comes. We've heard the verification process doesn't work so hot with Gmail accounts, for some reason. Here's the URL: http://2009.bloggies.com/
In honor of the last day of voting, we thought we'd take that "25 random things" meme that's running rampant on Facebook and do that for Corporette. So…. 25 random things about us, after the jump!

Twenty-Five Random Things About Corporette
How it Began
1. The idea for Corporette came in January 2008 when the founding editor became disgusted with the lack of serious fashion advice for serious women, and threw a fashion magazine down after it suggested she wear slouch boots and a sleeveless mini-dress to work.
2. The original idea included "reader challenges," where we would all try something a little crazy – mixing prints, wearing neon to the office – and photograph the results.
3. When we started with about 20 readers (blogging anonymously is hard, yo!) we discarded that idea.
4. It took us months to come up with the name (see below), but once we decided on Corporette we began blogging days later.
5. We draw a lot of inspiration from the magazine Esquire.
About the name
6. As mentioned above, it took us months to come up with the name. Discarded names included: CEOchic, The Pink Briefcase, Pink Pinstripe, and Honeybzz.
7. Some people (whose names shall not be mentioned, DAD) thought "Corporette" sounded too much like "cigarette."
8. The name took months, but the tagline – "a fashion and lifestyle blog for overachieving chicks" – came to us in about 2 seconds and stuck.
9. "Chicks:" Ladies, gals, dames, "young women," women, girls – none seemed right. Chicks felt right – it seems to us to be the best approximation for the word "guy."
About the author
10. We blog in the plural, but really the blog is run/written/edited by one chick.
11. That chick has written for fashion magazines and women's service magazines, so the how-to stuff on the site is sort of second nature for her.
12. She has a degree from journalism school, and a degree from law school.
13. She just turned 32.
14. She's getting married soon.
15. Her favorite accessories for work are her pearls (a present from her parents for her 30th birthday), her Cartier watch (a present to herself for her 30th birthday), and her Louis Vuitton Alma bag in black Epi.
16. She has a ridiculous number of shoes in her office – maybe a dozen pairs.
17. She follows about 100 blogs, newsletters, magazines, and newspapers for her Tweets, Weekly Roundup, and general story ideas.
18. It's kind of hard to stop blogging in the plural.
The ethos of the site
19. The general theory is thus: After a few years in the corporate world, a woman's shopping needs can be summarized in a few words — Working, Working Out, and Going Out. A $90 t-shirt has no real place in her life.
20. We thought a lot about what Corporette would NOT do – including critiquing real women. It makes us cringe to think of running a picture and snarky commentary of, say, Indra Nooyi or Meg Whitman or even Sarah Palin looking less than professional.
21. This kind of goes back to the unspoken idea of Corporette, which we hope everyone who reads gets: It's great if you like fashion. It's great if you want to look nice. But it shouldn't be required for the job, the way some companies are trying to do by suggesting women wear makeup and heels.
22. That said, hey; we're all still judgmental people — and in the professional world it pays to know when to tow the line and dress in a subdued way; unfortunately, it isn't always obvious what is inappropriate and what is appropriately subdued.
Some thoughts on fashion
23. Sometimes the fashionistas get into more trouble than the women who hate fashion. The women who hate fashion buy 5-10 suits and wear them into the ground. It's the fashionistas who come in wearing, perhaps, inappropriate things.
24. Wearing 5-10 suits, five or six days a week, gets incredibly boring.
Random thoughts
25. The "Suit of the Week" feature is actually one of the hardest to write – a basic suit is easy to find but one can't feature a black wool suit every week. Finding a distinct suit that's still professional? That is hard.
Thanks for reading this far! Don't forget to vote for us at 2009 Bloggies.