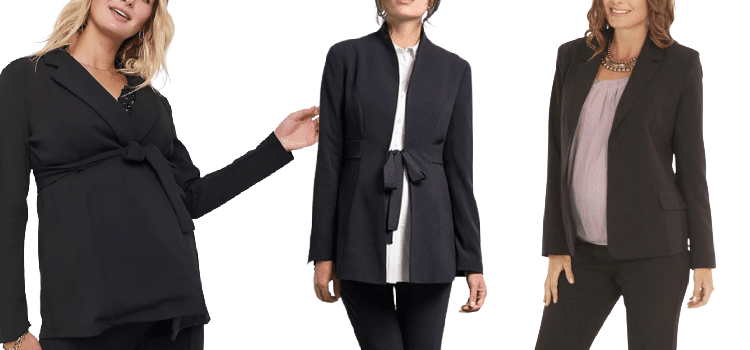 2021 Update: We still stand by this advice on pregnant lawyer style — but you may also want to check out our discussion on maternity suits for professional women on our blog for working moms, as well as our latest discussion here on what to wear to work while pregnant. 
We were out and about at a party Saturday night when a friend announced her good news: she's pregnant! The problem, she confided to us, was her wardrobe — she's in court three days a week and has no idea how to survive her pregnancy without buying several new suits every few months.
This is a bit outside our field of expertise (we have yet to shop maternity) but we promised to look into it.
Readers, please comment in — where can professional clothes be found for the mom-to-be? What is pregnant lawyer style protocol?
Update: here are some of our latest favorites for pregnant lawyer style!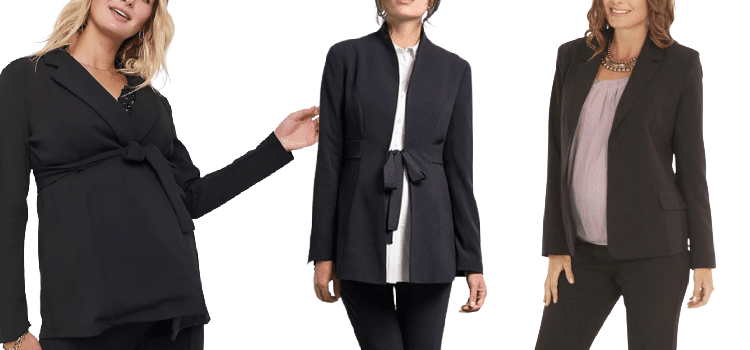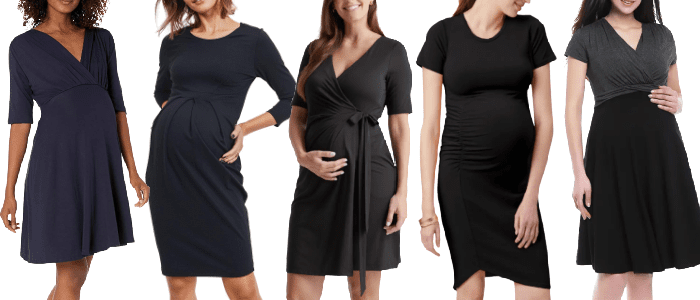 We began our search at Old Navy; we remembered a friend raving about their maternity department a few years ago. Given that our friend is normally a St. John's sort of woman, this was news. While Old Navy was flush with nice pants, there was nothing court-appropriate.
Next stop: Target, where the Liz Lange for Target Maternity collection seems to have just sold out of a lot of amazing, darling suits for $25ish per piece. Drat. Still, some seriously cute dresses for the office, such as this well-reviewed Sleeveless Ponte Dress — Ebony (for $25).
Next we tried Google searches. Through there, we found Isabella Oliver — "designer" maternity wear — who in fact does have maternity suits. But there, the prices are way higher — $268 for a jacket. Furthermore, maybe it's just the crazed look on the model's face, but perhaps a woman already flush with hormones should avoid anything but simple, basic outfits.
For some reason, we resisted the actual specialty maternity shops until after we'd exhausted our thoughts of discount suppliers. But we started finding real pay dirt with these stores. First up: A Pea in the Pod. Here, the selection is great, but the prices are higher — for the working mom-to-be on a budget, we recommend checking eBay for pieces you want, as well as consignment shops and Craig's List. (One friend of ours paid $50 for a trunk of maternity clothes from Craig's List — without knowing a single piece that was in the trunk — and it lasted her through her entire pregnancy!) But deals can be had, such as this classic black blazer at Pea in the Pod — once $128, it's now $49. Button Front Maternity Jacket
We hit more paydirt at another specialty shop: Motherhood Maternity. This would probably be our first stop, were we pregnant — the prices are definitely suitable to clothes you won't be wearing for more than a few months. We liked this stretch fabric maternity jacket, on sale for $15 (from $35.) (Note: We're not entirely sure WHY, but the same jacket seems to be $15 at Destination Maternity, also. Are the companies linked?)(Note 2:  Note that the gray stitch detail maternity jacket, at the top, is also from Motherhood Maternity and is also $15.)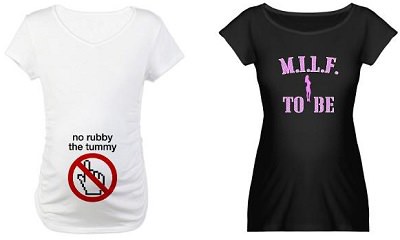 Of course, you can always just give up and try to face your sartorial conundrum with humor, such as these shirts from Cafe Press's broad selection ($25-$35ish):

Ladies, what do you think makes for good pregnant lawyer style? What should a pregnant mama wear to court or beyond to look professional while pregnan?