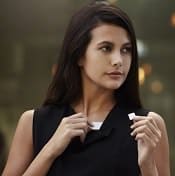 My posture is one of those things that I continually wish I could improve. I'm ok in public spaces, I feel, but once I get behind closed doors I'm Queen Slouchy. Bad, bad, bad. I saw this little posture "coach" on Amazon a while ago and made the purchase. The idea is that once you align your posture, the device will help you track how many hours of good posture you have, and you can turn on a "coaching session" where the device will "tap" you when you're slouching. Visibly, it's very innocuous (you can clip it to your bra strap), and the small vibrations when you're being "coached" have not yet started to grate on my nerves. I also like that you can set the length of your coaching session; the default is one hour but you can expand or contract based on your other metrics. It's $79 at Amazon. 
Lumo Lift Posture and Activity Tracker
(L-2)
Workwear sales of note for 12.7.23
Our favorites are in bold!
Some of our latest posts here at Corporette…
And some of our latest threadjacks here at Corporette (reader questions and commentary) — see more here!