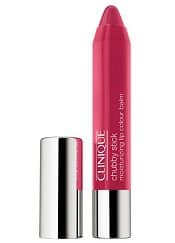 Here's what may be an odd question for you: Which are your favorite makeup products to combine? On the flip side — which are your favorite makeup products that are great by themselves? For my own $.02: in the past I've layered applications of two different kinds of mascara (because I liked one for coverage and another for separation or staying power of a
tube mascara like Blinc
), I've layered multiple kinds of lip products (my new favorite is using
MAC's lip primer
, using a
MAC lip liner
on my entire lips, and then sealing with a top coat of
YSL's Glossy Stain
in the one of the
Rebel Nude shades
), and of course different kinds of cheek products (some days I use
bronzer
,
blush
, and
highlighter
). When I'm using pencil liner I also tend to layer a dark eye shadow on top of it with a
smudge brush
, both to make my eyes a bit smokier and to help the liner stay put. In terms of products that are great on their own, I just got a new stick of
Clinique's Chubby Sticks
(in Graped-Up), and love it by itself — no lipliner, gloss, primer, or anything else needed (pictured above; available for $17 at Nordstrom). It's actually hard to think of another product that is great by itself, with no help needed from another product… hmmmn…
Readers, what are your thoughts? Which are your favorite products to combine — and which are your favorite to wear by themselves?
—————
N.B. These substantive posts are intended to be a source of community comment on a particular topic, which readers can browse through without having to sift out a lot of unrelated comments. And so, although of course we highly value all comments by our readers, we're going to ask you to please keep your comments on topic;
threadjacks will be deleted at our sole discretion and convenience.
Thank you for your understanding!
We are a participant in the Amazon Services LLC Associates Program, an affiliate advertising program designed to provide a means for us to earn fees by linking to Amazon.com and affiliated sites.