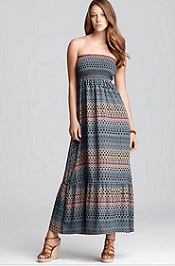 Can you wear maxi dresses at the office? I'm hoping Reader J is joking:
Are maxie dresses appropiate at the office in the Summer? I've seen two ladies, one younger in her 20's perhaps, the other older, 40's maybe, wearing maxie dresses in the summer. The younger girl wore one once that was bright orange and strapless like the one in the link with nothing over it. The other lady has worn halter top and spaghetti strap maxie dress and will ususally wear a sweater or wrap with it. Either way, is a maxie dress ever okay for the office in the summer? Thanks.
You're pranking me, right? My only thought is: NONONONONONONONONONONONONONO. No. N. O. I mean, look at the model — do you think "oh, how competent," or "I think I'd like her on my team"? Not really, right? And bear in mind this is a static image; in real life she'd probably be itchy from the smocking and obsessively yanking that neckline up. (For the record, I'm also against halter tops or spaghetti straps of any kind in the office.)
Let me take a deep breath and step away from the strapless, smocked monstrosity above, and say that I actually have thought about talking about "how to wear maxi dresses" to the office on here a few times because, many moons ago, I saw a column in Lucky Magazine where Jean Godfrey-June styled a brown maxi skirt with a white shrunken blazer and I actually thought, oh, how cute, that might be appropriate for the office. Sort of similar to the below: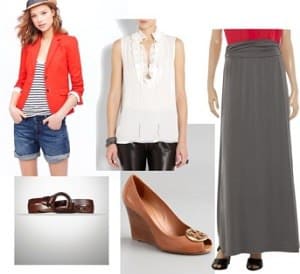 And every time I've thought about it I've asked myself, REALLY, Kat? Maxi dresses at the office? No no no no no. So… I have to trust my gut reaction here, and I cannot endorse a maxi dress or maxi skirt at the office unless you really, really have a very creative, free wheeling kind of office, in which case, hey, knock yourself out. (And I say this as someone who loves me a maxi skirt for the weekend, or for summer nights, or for working from home — super comfortable!)  They're just too vacation-y, too breezy, too "where's my mai tai?" for the office.
The only possible caveat that I'll make is: if you're pregnant. Because a) pregnant ladies look the best in maxi dresses (at least, that's what I thought when I was pregnant) and b) there are so few cute work-appropriate clothes that maxi dresses might be the lesser of numerous other evils.
Ladies, sound off — are maxi dresses or maxi skirts ever appropriate for the office, or am I overreacting? (And if so, which are the proper shoes to wear with them, assuming that sandals are not appropriate for your office?)