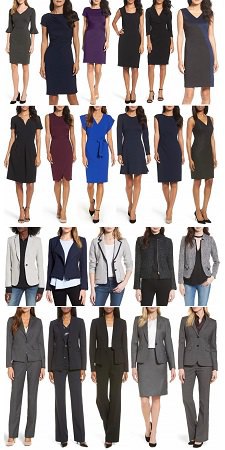 Mar. 2023 Update: Curious about the next big Nordstrom sale? The Nordstrom Anniversary Sale will start July 11, 2023 — but also keep an eye out for their Half-Yearly Sale, usually the last weekend in May. Unfamiliar with the NAS? Check out this page for more info on why it's the best sale of the year.) Sign up for our newsletter to stay on top of all the major workwear sales, or check out our roundup of the latest sales on workwear!
The below content is about the 2017 Nordstrom Anniversary Sale.
Dum dum dum… we present Nordstrom Anniversary Sale 2017: Picks for Work!
Updated 8/3 to reflect restocked inventory! Anything that only has a few sizes left has been marked with an asterisk — if you like it, you may want to move fast!
I'll be honest: Based solely on the presale catalog, I was a little worried that this sale was going to be (to quote recent news articles on other matters) "a big nothing burger," so I'm thrilled to report that it's actually really good once you wade past all of the ruffles (my God, why all the ruffles?) and odd off-the-shoulder/cold shoulder looks.
There are a TON of great dresses from Eliza J, Ellen Tracy, Classiques Entier, Halogen and Vince Camuto; tons of investment pieces from BOSS, Lafayette 148 New York, and for the weekend a lot of great pieces from AG, Paige, Wit & Wisdom, Articles of Society, Kut from the Kloth and NYDJ.
Reader favorite workout gear Zella is included in the sale, as is lingerie from brands like Natori, Chantelle, Hanky Panky, Spanx, and Yummie by Heather Thompson. (Oh, and this reader favorite brand for pantyhose and tights is in the sale too!)
Without further ado, here's our initial picks for workwear from the 2017 Nordstrom Anniversary Sale…
This post contains affiliate links and Corporette® may earn commissions for purchases made through links in this post. For more details see here. Thank you so much for your support!
Reader Favorites from Previous Sales

V-neck blouse (4 colors and petites), now $31, will be $48 (now sold out, unfortunately!)
pleat front blouse* (5 colors), now $45, will be $69
navy blazer (6 colors and petites), now $39, will be $59 after sale
black shawl blazer (3 colors), now $48, will be $74
merino sweater (9 colors) (admittedly, readers love the cotton version of this sweater, but for winter I always think merino wool is better!)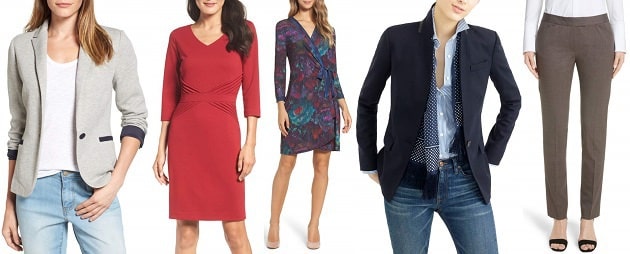 Great Dresses for Work in the NAS (MOSTLY under $100!)
The 2017 Nordstrom Anniversary Sale really excels at dresses for work — so many cute ones, and they're all so affordable. All of these dresses but the final, 12th one are under $100. (I like that one too much to not include it!)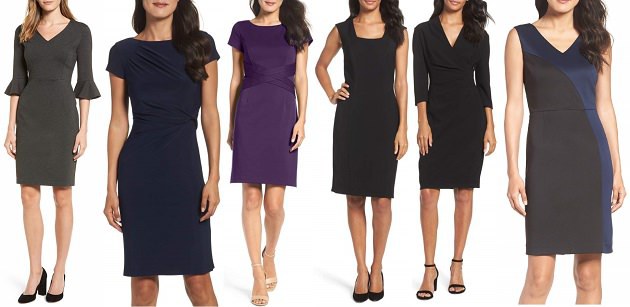 Above $65-$85: gray ruffle sleeve dress* / navy twist waist dress* / purple sheath dress / black sleeveless dress / black sleeved V-neck* (3 colors & petites) / black/navy dress (petites too)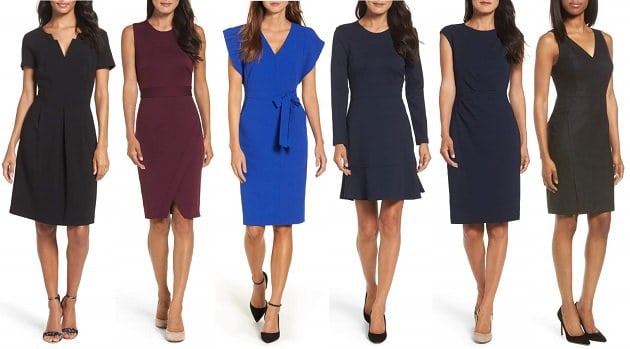 Above: black flared dress* / burgundy dress / blue belted dress / navy flare dress* / sleeveless navy sheath dress (2 colors) / stretch wool suiting dress
Bottoms for Work from the 2017 Nordstrom Anniversary Sale, now $38-$58 (will be $59-$89)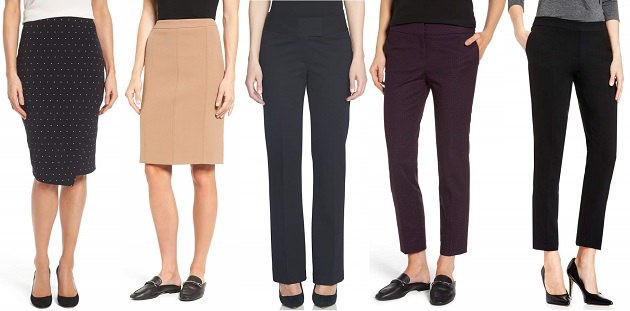 dotted skirt (now sold out) / camel pencil skirt / burgundy dot slim ankle pants (3 colors, petites also) / ponte knit slim boot cut* / textured skinny pants
Tops for Work from the 2017 NAS, now $38-$196 (will be $79-$295)
Row 1, $38-$65

Above: pin dot v-neck (now sold out) / white peplum top (reg & petite) / bow shoulder sweater (2 colors) / black/white tipped sweater (now sold out) / silk floral (now sold out)
Row 2, $67-$196

Above: navy cardigan* (five colors) / keyhole top (now sold out)/ black bell sleeve top* / green silk blouse / burgundy peplum cardigan (matching shell)
2017 Nordstrom Anniversary Sale: Blazers for Women, now $58-$198 (will be $89-$298 after the sale)

Above: gray herringbone (now sold out) / navy tweed (now sold out) / gray merino wool sweater blazer / black/blue tweed*/ white/blue fringe tweed
Suiting Separates in the Nordstrom Anniversary Sale 2017, now $59-$199 (prices will be $89-$595 after sale ends)
(In general, it's really nice to see less suiting looks with cropped pants — lots of full length trousers if that's your preference. I'm also kind of intrigued by all the plaid suiting I'm seeing — it feels like it's been a few years since that's been in as much as it will be for fall.)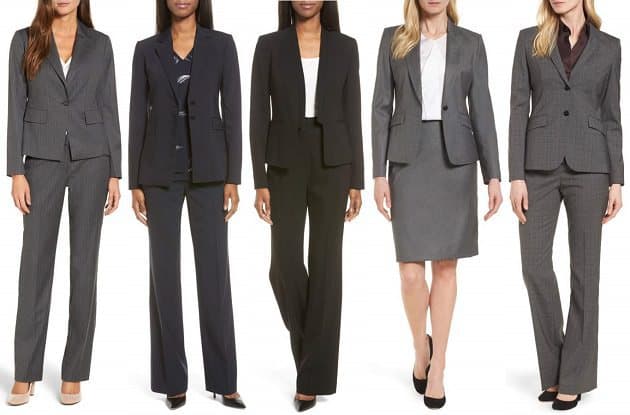 Nordstrom Anniversary Sale 2017: Plus Size Picks for Work
We rounded up more of these over on this page, but some of our absolute favorites for plus-size workwear include the ones pictured below…
(If you are interested in plus size workwear, please sign up for CorporettePlus, our newsletter! Signing up helps us gauge interest in the project, and we promise not to blast your email more than once a week at most. (Right now it's more like once a month.))
Row 1, below (now $57-$86): polka dot shirt* / floral shirt / black sheath dress / black cutaway blazer and pants / contrast seam dress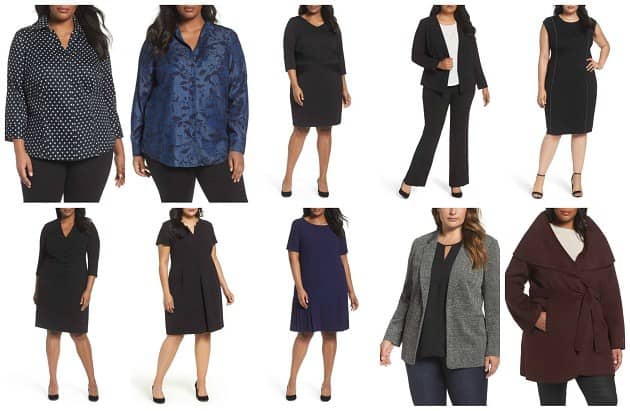 Row 2, above (now $92-$178): side pleat dress* / a-line dress (sold out) / blue pleat detail dress* / herringbone blazer* / wrap coat
Splurges for Work in the 2017 Nordstrom Anniversary Sale
If anything it feels like there's a lot less designer clothes in the mix this year. (Has anyone noticed this in general with shopping? It feels like now everything is over $300 or under $100, with very few things in that middle range that can be golden for work!)
Row 1, currently $314-$398 (will be $495-$598 after the sale ends):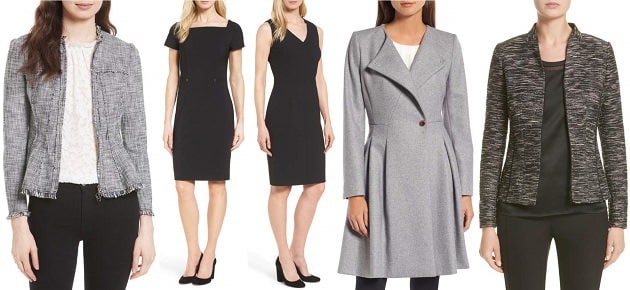 Above: tweed peplum jacket / black sleeved dress* / black sleeveless dress / gray skirted coat / black multi blazer (matching skirt, plus-size blazer (sold out)
Row 2, currently $398-$699 (will be $598-$1014)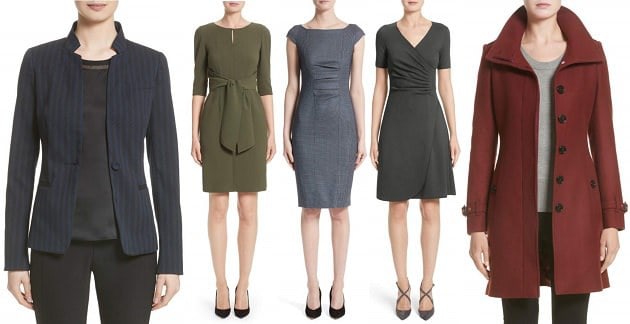 Above: ink stripe blazer* / green sash dress (sold out) / blue pin dot dress (matching pants & jacket) / gray faux wrap dress / burgundy coat
Readers, what have you found in the sale so far this year? Anything great for work or play?