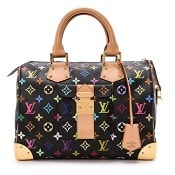 How do you deal with men at work making derisive comments about the expense of your bags, shoes, and clothes?  I've been thinking about this one ever since she sent it in. Reader O wonders…
After a recent exchange, I've been thinking about my preferred strategy for handling inappropriate/sexist comments from male colleagues/clients: making a joke that disarms the offender while sending a message about boundaries and respect. What are your thoughts on this strategy? Here's my recent example:
Greeting the team pre-meeting, client looks at my shoulder and says "remind me when we're done – I have a great Louis Vuitton story for you!! Don't let me forget!!" Post-meeting (where per the usual I am the only woman in the room), client remembers & proceeds to tell this great "story" to me. And the team. "I'd never been in the store before and went to find a purse for my wife. I'm looking at this bag and can't find the price anywhere, I finally find it – $2500! For a purse! I guess we know where those legal fees are going." Another male team member seems particularly amused.
Me, looking at their wrists: "So, I see that you're both wearing Rolexes. This is my Rolex."
Like I said, I've been thinking about this since Reader O sent it in, and I can't quite pin down my thoughts.  We've talked about sexist clients and sexist coworkers, but I'm not sure the advice there totally applies here.  Here's what I know: I'm pissed on Reader O's behalf.  But I'm also not sure she handled it well, considering this was a client.  More specifically:
– I squirmed a bit at the Rolex response from reader O.  After thought I haven't come up with anything better, and looking back I think it was fine and even pretty clever for an off-the-cuff response.  Still, my gut reaction was, "that tone was far too defensive to use with a client."  Reader O didn't say how senior she is and whether this is HER client (or her boss's client) — if it's her relationship she can talk however she likes.  If this is NOT her client, though…  I'm not sure it was appropriate, particularly given that this guy could just be a bumbling idiot who didn't intend any harm, and given that it's always possible that O is misreading the culture at her office (and, for example, those were not $10K+ watches, but rather cheap imitations thereof).
– That said: I get angrier and angrier the more I think about this.  What was this guy (or your charming, bemused male coworker) implying — that you're just Playing Lawyer until you can join the cast of the Real Housewives of ____? That you're high maintenance? "Expensive"?
I'm kicking this one to the readers — what do you think, ladies?  What should Reader O have done in this particular circumstance? In general, do you have to take a "laugh it off" mentality with clients?  If this had been a male coworker (instead of a client), would your response be different?  Would anyone, based on this experience, ask to avoid working with this client (or drop him as a client)?
Pictured: Vintage Louis Vuitton Multi Monogram Speedy Bag, available at ShopBop for $2,950.
N.B. PLEASE KEEP YOUR COMMENTS ON TOPIC; threadjacks will be deleted at our sole discretion and convenience. These substantive posts are intended to be a source of community comment on a particular topic, which readers can browse through without having to sift out a lot of unrelated comments.  And so, although of course I highly value all comments by my readers, I'm going ask you to please respect some boundaries on these substantive posts. Thank you for your understanding!