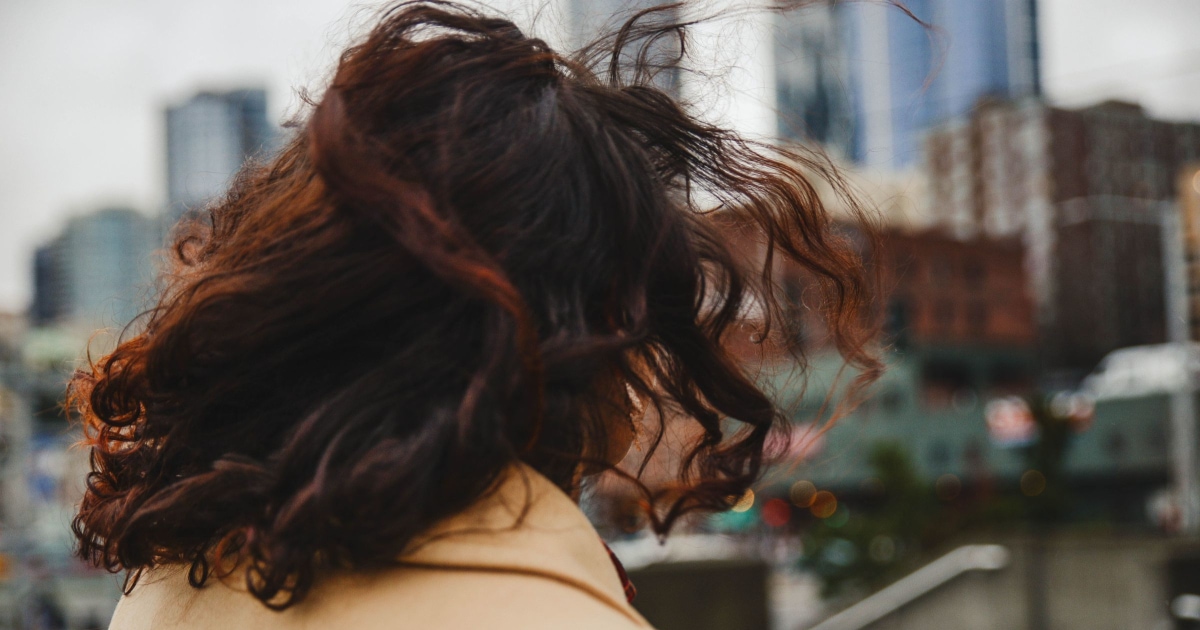 Ok, guys — I know this is a common discussion in the comments, and, I thought I'd finally throw an open thread up here. My own hair has been getting wavier and wavier as I get older (yay, age!) and it seems like there are different routines for fall/winter versus spring/summer.
How do you deal with your curly or wavy hair in the winter? What are your favorite diffusers? What hair products do you pull out when you do your seasonal swaps? I'm still trying to figure this out myself, so I'm curious to hear what the readers say. (And a caveat — as anyone who's spend any time on the excellent NaturallyCurly.com site and forum, everyone has their own technique, and it can be a process of discovery to figure out what works best for you.)
For my own $.02… my hair has always had a slight kink in it in the very back of my head — and as I get older, I'd say that it's now about 60% wavy/curly (again, only in the back of my head) and about 40% straight. If my hair is longer, like it is right now (about 2″ above the top of my bra strap) the hair itself is so heavy that I can get it pretty straight with a quick 15-minutes with my hairdryer, diffuser, and (when it's 95% dry) some time with the roundbrush.
It's still a bit poufy and, in the very back, kinky, but for a day-to-day look it's more than fine. In more humid weather I was liking the Avon Anti-Frizz stuff; now I just try to be sure to use a gel or whatnot to protect it from the blowdryer's heat. My own blow dryer is a pretty cheap one, bought a few years ago at Bed Bath & Beyond for about $30 — but I'd be willing to spend more if anyone has any suggestions. I'll also sometimes use a flat-iron, which I think was about $120, also at Bed Bath & Beyond.
Last fall/winter, though, my hair was so short I could barely put it back into a ponytail — in July I donated 9″ and did the post-wedding chop. Attempts to blow-dry it straight were largely unsuccessful — it seemed like I was just walking around with my head looking like a triangle, if that makes sense. However, my hair was short enough that I'd let it airdry most days into curls/waves. In terms of products and tools, when I let it go wavy/curly I use the little clips to "pick" the hair up to help it airdry (as they taught me the one time I went for a Devachon cut), and I'll use a towel designed for curly girls to "scrunch" my hair as the water drips to the bottom of it.
When it's nearly dry I'll throw on some gel or cream to help the waves hold their shape — my favorites are the Frederic Fekkai Luscious Curls Cream
and the Devachon AnGel. (I've tried a few of the "beachy" misters and hated the residue-y feel to my hair afterwards — same with most of the "curl revitalizer day-after sprays" that I've tried. If I try to rock a second-day curly look, I tend to just spritz water on my hair and re-scrunch it.) (I still haven't figured out how to dry it "curly/wavy" with a blowdryer — my skill set ends at airdrying!) (At right: a pic of me on a day the curls came out okay…)
Personally, I like my hair both curly and straight, although straight feels more like "me" — but ultimately I just want to be able to spend as little time on it in the morning as possible!
Anyway — any tips for the care and feeding of wavy/curly hair as the weather gets colder?
This post contains affiliate links and Corporette® may earn commissions for purchases made through links in this post. For more details see here. Thank you so much for your support!
Psst: As of 2023, these are some of Kat's favorite hair products (she largely follows curly hair routines)… but she loves this $30 brush/blowdryer!

Originally pictured: Wet Curls, originally uploaded to Flickr by YaelBeeri. Social media picture via Stencil.