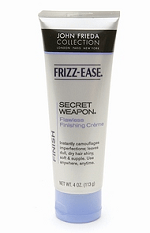 I thought it might be fun to share some of our best secrets for summer hair. For example, when my hair was straighter, I felt like I was constantly battling frizz — so I kept a container of Frizz-Ease Secret Weapon at the office and would smooth it on my locks before I left the office to meet up with friends. If Frizz-Ease was somehow unavailable, I just would take a slightly bigger amount of my hand lotion (I'm addicted to Curel) and, after moisturizing my hands, smooth the remaining amount on my hair.
I have never been a fan of blowdryers in the summertime, but especially over the past 5 years or so (as my hair has gotten curlier) I've been doing minimal blowdrying in the summer (sometimes just 3-5 minutes of blowdrying at the crown of my hair) and then letting the rest airdry into whatever waves or curls my hair wants to go into.  As any curly girl will tell you, there are a million different suggestions for products and procedures for curly hair, and it's a lot of experimentation — and I'm still in the process of finding my comfort level with it all.  So take these tips with a grain of salt, but for curly hair, I've definitely found that the less I touch it while it's air-drying, the better it comes out. I've also found that while it doesn't seem to matter what product I put in my hair, it does seem to matter when I put it in — namely, my waves and curls come out better if I put the product in when my hair is still dripping wet in the shower, before I even squeeze water out of it. (I got the idea from this video.) I tend to prefer curling creams versus mousses and gels — my goal is to avoid crunchy hair! — but that's me.
When I wear my hair up, I've been using the "pull some hair out so your ponytail is looser" hair trick that I learned earlier this year (again: how did I not know that?!), and I think I might try Extra Petite's tip with her velcro bump — I definitely have a flat head. Other stuff I've tried: spin pins (but my hair has to be soaking wet when I put them in, meaning there's no real opportunity to add a velcro bump or otherwise tease the hair), sock buns (they do work well for a more no-heat curl, but my hair seems to be too layered for the sock bun to actually look good while I'm wearing it).
Readers, what are your best discoveries, tips and tricks for good-looking hair in the summer?