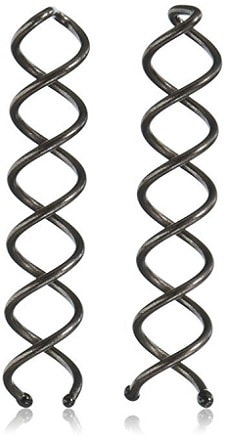 Two separate readers have written in to recommend the Goody Spin Pins for office updos, and I've noticed a lot of commenters mentioning them as well, so I thought I'd mention these again for a Coffee Break. Reader S noted:
They are the only way I have ever been able to put my long hair into a secure professional bun. The traditional pack comes with two long pins, but they also sell a pack with three short pins that I add into areas that don't feel so secure. It's professional hair for dummies. And by dummies, I mean busy women who want to look great but don't always have the time to spend on getting there. Family and getting an hour in in the office before court take precedence sometimes…
Meanwhile, reader K noted:
It's fantastic. I've never been able to do a bun in my hair before I found this product. I especially love it for the office, because a) it looks professional (this is especially important as I am the youngest employee in the office, and one of only a few female attorneys)  b) takes only a few minutes to do; and c) means I don't have to blow dry and straighten my hair every day.
I have some of the spin pins, but must admit I haven't spent too much time attempting to use them — clearly I need to start! Readers who are fans, what are your best tips? The spin pins are available in a number of different colors at Amazon for around $8, as well as at your local drugstore.
Goody Spin Pins
This post contains affiliate links and Corporette® may earn commissions for purchases made through links in this post. For more details see here. Thank you so much for your support!
2018 Update:
We're adding these clips to our
Workwear Hall of Fame
because after they are still around and getting rave reviews.
Amazon
has them, but obviously also keep an eye out at your local drugstore.
We are a participant in the Amazon Services LLC Associates Program, an affiliate advertising program designed to provide a means for us to earn fees by linking to Amazon.com and affiliated sites.