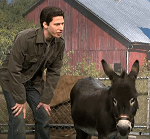 What do you talk about at cocktail parties — particularly when you're trying to network? I've gotten a few questions like this recently, such as the one from Reader K, below:
I was invited to a co-workers party last weekend and I was the ONLY person from the office there. I didn't know anybody, not to mention I was the youngest person there!

So as I was making the rounds and mingling, I noticed nobody was asking me the question I was trained by TV to expect: "What Do You Do?"

Is that question off limits these days?
This is a really interesting question because I can't imagine any reason why "what do you do" would be a loaded question, even in this difficult economic time. (Hey, it's one of "Mark Wahlberg's" favorite intros when he talks to animals: "So you're a donkey, what's that all about?") If people are working, they're happy to talk about it; if they're looking for work, they're probably especially happy to talk to you about it to see if you can help them.
In fact, I would say "what do you do" is one of the safest conversation starters around! (One of the other reader emails I got was along the lines of, "what the heck do I talk about when I'm seated next to a SAHM mom at a party?" — and I would even say "what do you do" is a safe conversation starter there.)
As we head into holiday party season, though, I thought I'd throw out a few other questions that are usually safe intros:
"How do you know ___ (the host, the person you were just talking to, the person being feted, etc)."
"How long have you been working here?" (for interoffice events)
"Great ____ — where did you get it?" — compliment his tie, her shoes, her bag, etc.
These are really just handy things to have in your pocket as ways to begin conversations — the follow up questions are key to having a great conversation.
Readers, do you consider any topics "off limits" at parties? What was the most unusual first conversation you had with someone (good or bad)?