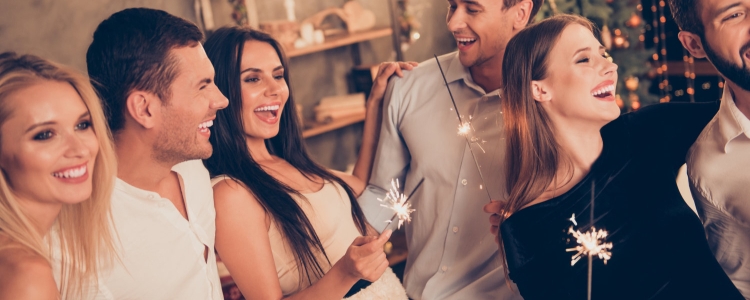 What should you wear to your husband's boss's dinner party? How does plus-one style (in appearance as well as approach) differ? Reader L wonders…
My husband and I are both lawyers in our late (or, more accurately lates-est) twenties. He recently accepted an associate position at a new firm, and one of the shareholders invited us to a small dinner at his home along with several other associates and their significant others. The dinner is not until the end of March but I am already in a panic about what to wear. Any suggestions?
We have talked about what to wear to your boss's holiday party, but the suggestions there (post and comments) are all very seasonal, so I thought we'd revisit.
General Tips on Plus-One Style for Young Professionals
The important part here, I think, is that you're the plus one — it isn't your boss; it's your husband's boss. In my mind this is a very different approach than when you're going to your own work-related social event.
Things that might be of concern were it YOUR boss: being too feminine, being interesting in that "I have a life outside the office" way, having the entire social event run in a way that it bolsters your boss's and colleagues' good opinions of you as a work colleague and doesn't undermine those opinions at all… But when you're the plus one, none of that matters.
Obviously, you're intelligent and a lawyer yourself — don't pretend to be something you're not, and don't do/say anything that will lay the groundwork for a bad impression if you later meet another dinner attendee in a work-related capacity.
But: if you leave that evening and their impression of you is, "she's pretty and makes a nice wife for Mr. L," that's A-OK. You wouldn't want that if it were YOUR boss, but since it's HIS boss it doesn't matter.
(Incidentally, this has nothing to do with husband/wife dynamics — in general I think it's the mark of a bad plus-one if they outshine you at your work events. Part of having/being a good partner is knowing when to throw each other the ball and let the other person run with it, rather than trying to make all the goals yourself. I would be peeved if my husband and I went to an event for MY work and he actively hogged the spotlight, or even if he led/perpetuated a conversation that he knew I couldn't take part in.)
THAT SAID — what should you wear, whether it's to your own event or your husband's event? My advice is kind of the same: if it's on a weeknight, wear something you could have worn to work. A dress in a work-appropriate fabric (with sleeves if you want to be conservative) sounds perfect to me, such as this one, this one, this one, or this one.
If it's a weekend night, I might still wear a dress, but perhaps a more casual one, and upgrade it with some blingy jewelry.
For my $.02, I'd stick with softer, friendlier silhouettes like cardigans, and avoid satin, lace, and other "definitely cocktail dress" attire.
For propriety's sake, keep an eye to respectability — no cleavage, no leg, nothing too tight; if you're wearing heels I'd go for walkable ones.
This post contains affiliate links and Corporette® may earn commissions for purchases made through links in this post. For more details see here. Thank you so much for your support!
We are a participant in the Amazon Services LLC Associates Program, an affiliate advertising program designed to provide a means for us to earn fees by linking to Amazon.com and affiliated sites.
A Few Suggestions for What to Wear to Dinner With Your Husband's Boss
Some of these may verge on too holiday for a get-together, so keep that in mind…
Statement Necklaces to Upgrade Any Look
Here are some fun statement necklaces as of Nov. 2022… Note that Alexis Bittar, Karine Sultan, Bauble Bar, Deepa Gurnani, Knotty, and even All Saints and Kendra Scott often have some nice options as well.

Festive but Professional Party Dresses and Jumpsuits
Some of our favorite jumpsuits and party dresses for professional settings include these as of Oct. 2022… depending on the event, you may also want to check out our latest favorite colorful sheath dresses (great for alumni events, or just get darker colors like navy).

Readers, what would you wear to dinner with your husband's boss? Do you agree with me that plus-one style (in clothing and approach) is different than when you're the main person invited? (Have you STOPPED taking any people as your plus-one to work events because they were bad plus-ones?)
Note that this post was originally written in 2009, but substantially updated in Oct. 2022, except where indicated.
Updated stock photos via Deposit Photos / deagreez1.