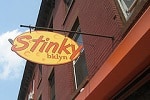 Our poll on drycleaning has been up for about a week and a half, now, and so far the results are kind of what we expected: 49% of you said you dryclean your suits after four or five wearings; another 42% said you only dryclean it when they start to smell. 8% of you said you dryclean it after each wearing (seriously, people?) and, amazingly, no one admitted to never drycleaning their suit.
Poll is still going on, though, so if you haven't yet voted please go and do so!
Photo by wallyg, courtesy of Flickr.
Incidentally, the Stinky Cheese Fair is slated for next Sunday in Brooklyn. [Gothamist]