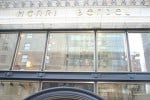 The WSJ has a story today about how the law firm Weil, Gotshal, & Manges recently had a women's networking event at Henri Bendel's, giving everyone $25 gift cards to get them started. Bendel's agreed to give 10% of the profits to a charity, and Weil agreed to match those profits. (We knew we shouldn't have cancelled that callback we got from Weil, darnit.) (Photo by pixxiestails, courtesy of Flickr.)
Jillian Bunyan, who had just arrived in New York from "rural Maryland" to intern at Weil, said the evening offered her a chance to interact with women she considered too high-up to approach in the office. "Being here sort of levels the playing field," she said. While the big bosses at work seemed out of reach, at Bendel's "you can talk to anybody about designer sunglasses."

. . .

Two lawyers, Erin Law and Virginia Munoz who were hunting for a watch, agreed that men had the advantage of being able to bond more easily than women. "They can just do it whenever," Ms. Munoz said. Women, she said, needed a reason to talk to each other. To her, male bonding seems effortless: "Oh you like sandwiches? Me too!"
We've already done one poll today, but we're curious for comments — do you feel that firms should have special networking events for women? Beyond dinners or catered parties, what sort of events has your firm done that you've liked and haven't liked? What sort of events would you like? Have organizers tried to do specialized events (e.g., shopping or spa parties) and been rejected by male managers? Do you feel like there needs to be something to "level the playing field," as the above quote (from what sounds like a summer associate) suggests — either lots of liquor or two women grabbing the same cashmere sweater?
We have mixed feelings on this stuff. On the one hand, these women-only events feels a bit like those pink computers and Blackberries marketed towards women — false in some important way. But the shopping event sounds like fun bonding — much more fun than trying to balance a weak cocktail with a tiny plate of appetizers.
At Weil, Shopping & Networking Go Hand in Hand [WSJ]
UPDATE: Boo — unless we're mistaken our comments aren't working. Double boo. If you like please e-mail us with any comments ([email protected]) and we'll post 'em when we get 'em up and running as updates to this post. (We promise we will NOT post your e-mail address or name.) Otherwise we'll let you know when we fix the problem.
UPDATE 2: We're back in business! Please comment away.