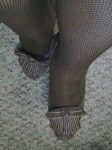 So last week, we asked about fishnet tights — and whether they were ever appropriate for the office. It turns out that we failed to account for something that a lot of people thought was an important factor: the width of the netting. (Our apologies!) With the caveat, then, that our poll was imperfect (hey, aren't they all?), the results were:
– 60% of you said they were never appropriate
– 24% said only if worn as trouser socks
– 13% said they were fine so long as the skirt/outfit was demure enough
– only 1% had a laissez-faire attitude about fishnets.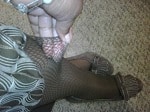 Commenters noted that small-weaved fishnet tights added texture and style, and as long as the fabric was the color of your skin then it was acceptable for a casual day. One commenter (Style Goddess) felt so strongly hers were appropriate she sent in some pictures (above and at right) — we must agree, they look great on her.
N.B.: Even those in favor of fishnets noted that these were not the accessory to choose the day you've got that court appearance, press conference, or stock holders' meeting.
Update: Nude-for-you fishnet tights, fleece pantyhose, and other sheer tights are making a comeback… these are some of our latest favorites!