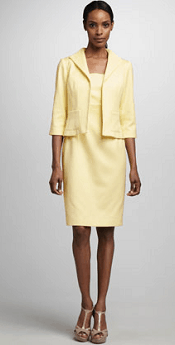 Today's reader mail has to do with off-season clothing…
Do you have suggestions for places to get an off-season suit? Have to prep for an interview in SoCal in January…
As the kids say, srsly? Man, do we have suggestions for you. Off-season is the best time to shop for clothes, in our opinion. First, hit up any outlet stores near you — we've had great success with the Chelsea Premium Outlets (Leesburg, Woodbury, etc.) — it's a chain with centers located around America, so check the website to see if any are near you. If you go, you may want to check out the discount racks — fall clothes will probably be prominently featured at the moment, meaning the more summery clothes will have moved to the discount racks. 
The trick here is not to get a "seasonal" suit (think a jewel-toned tweed in the fall, or a white/pastel linen in the summer) but rather a seasonless suit. Some brands "pitch" their suits as seasonless — J.Crew, Anne Klein
— but really, anything will do so long as it doesn't smack of a season that is not the one you're in. For example, the Kasper pantsuit above is polyester, and on a cold, windy day you'd freeze in it — so practically speaking, it is a "seasonal" suit. But from a visual perspective it just looks like a black suit, so you're fine to wear it on your interview. At least, that's our $.02.
Readers, what say you? Which brands of seasonless suiting do you prefer? Where do you buy your off-season clothes?
(L-3)