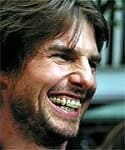 Today's reader mail comes from a 1L, who's just been told she needs braces…
I have recently been advised by a number of orthodontists and oral surgeons that I need full braces (including rubber bands — eek!) on both my top and bottom teeth for at least two years, followed by retainers, etc. My question is: would getting braces adversely my job prospects? I'm concerned that employers might somehow be distracted and/or put off by braces in interviews. Will they take me seriously? Have you ever come across an adult with orthodontia in your practice and, in all honesty, did it affect your perception of her and/or her performance?
Wow. This is a really difficult question, and, while we don't have any answers, maybe our readers do. (Pictured:  Tom Cruise, who got braces in 2002.) Our advice is: if you're being advised by orthodontists and oral surgeons, go ahead and get the braces, because there just isn't going to be a better time, and people will be understanding about whatever circumstances (money, dental insurance, changing teeth, whatever) that prohibited you from getting braces before this point in your life. We actually have worked with one adult who had braces — it struck us as slightly odd, but not unprofessional (and his teeth were pretty bad so it was obvious that this was a necessary thing). The harsh truth is that yes, we noticed the braces, but we would have noticed his teeth anyway, and at least the braces showed he was being proactive about it. Go as high end as you possibly can — upgrade to invisalign or ceramic braces (or whatever) as soon as your doctors will allow it. Normally, we don't advise people to go in debt for vanity's sake, but we might break that rule here if you know you're going to be able to pay the debt off soon. If money is a real issue, you might want to approach someone at your law school and see if they know of an alumni who might be willing to sponsor you, or perhaps look into peer-to-peer lending like Prosper.com or LendingClub.com.
Otherwise, get the braces and be absolutely vigilant about keeping them clean. Try to avoid picking up any brace-specific ticks that make noise or look odd — in other words, the kinds of things that will call attention to you if you're sitting in a meeting listening to someone else speak. You might also check out sources like ArchWired, a site for adults with braces.
Readers — particularly those of you who've had braces or other dental problems — please weigh in — we're sure our reader would love your thoughts and advice.